Overview
With 4 Tapered Zip Extensions attached together on your Batwing Awning, you can create a full enclosure for your family and friends.
The Batwing Tapered Zip Extension is made from the same rip-stop polycotton canvas that is used for our awning products. The tent is not only UV-protected but also waterproof, mold resistant and rust proof.
Everything you need is included: telescopic poles, ropes, pegs and a storage bag for your added convenience.
*** PLEASE NOTE: Not compatible with Batwing Awning Compact (#33300 / #33400) ***
Features:
Quick and easy to attach (up to 4)
UV Protected
Greater windbreak, privacy screen and storage area
Extra zippers on the side to attach extension pieces together
Waterproof (Rating:1500mm)
MouldShield
Rust Proof
Suitable with the Batwing Awning
Coverage of 7.1m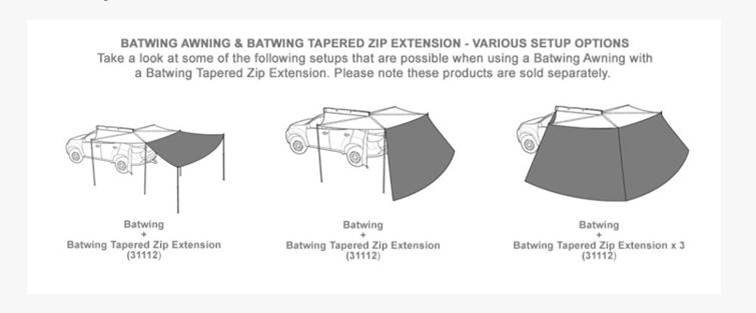 Q1. Does the Tapered Zip Extension always need to be zippered together?
A1. No you can set up the Tapered Extensions Horizontally to the ground so that you create an open under cover area which is fantastic protection from Sun and Rain.
Q2. Will the Tapered Extension Work on my Sunseeker?
A2. Yes it will Zip on as all our Zippers are designed to match but we recommend using the standard Extension 31101
Q3.How many Tapered Zip Extensions Can I use on my Batwing.
A3. 1,2,3 or 4 Zip Extensions can used quite easily and it will provide an excellent Shelter off the side of your vehicle