Nothing beats that feeling of finding an epic off-the-beaten-track campsite. Whether you're going off-grid or playing it safe at a powered site, packing your 4WD effectively is a game-changer for any camping trip. After all, if you've got a roof, you may as well use it. Read on to discover our range of 4WD camping gear, from award-winning rooftop solutions to essential accessories.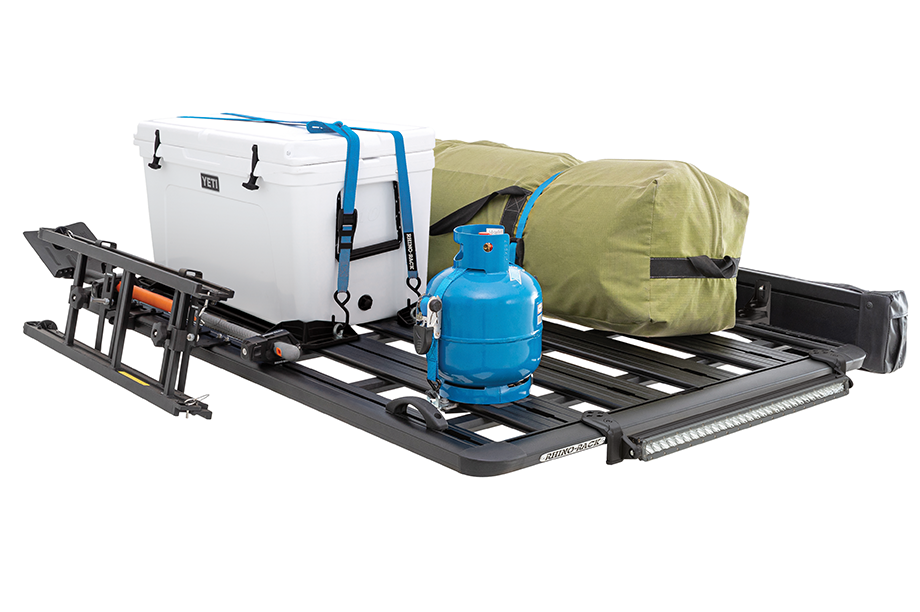 Rooftop solutions for camping
Though some might be happy to sleep under the stars with minimal gear, most of the time, camping requires a lot of kit. Think of your tent, sleeping bag, pillows, torches, food and clothing – and that's just a few items. If you're camping off-grid, you'll also need to bring water and plenty of it! Thankfully, a lot of good camping kit packs down, freeing up the much-needed space in your vehicle. However, there's no doubt that those bulky items like water, extra gas and ladders are best stored up top.
When it comes to camping, our go-to roof rack is the Pioneer Platform. Its award-winning design is compatible with a wide range of accessories, allowing you to create a bespoke rooftop solution. It's also extremely lightweight, which means you can maximise storage load capacity while kitting your roof out with the most effective tools for your trip.
The Pioneer Platform is compatible with many vehicles. Don't worry if your vehicle's not on this list. You can find the perfect roof rack for your 4WD with our 'Fit My Vehicle' tool.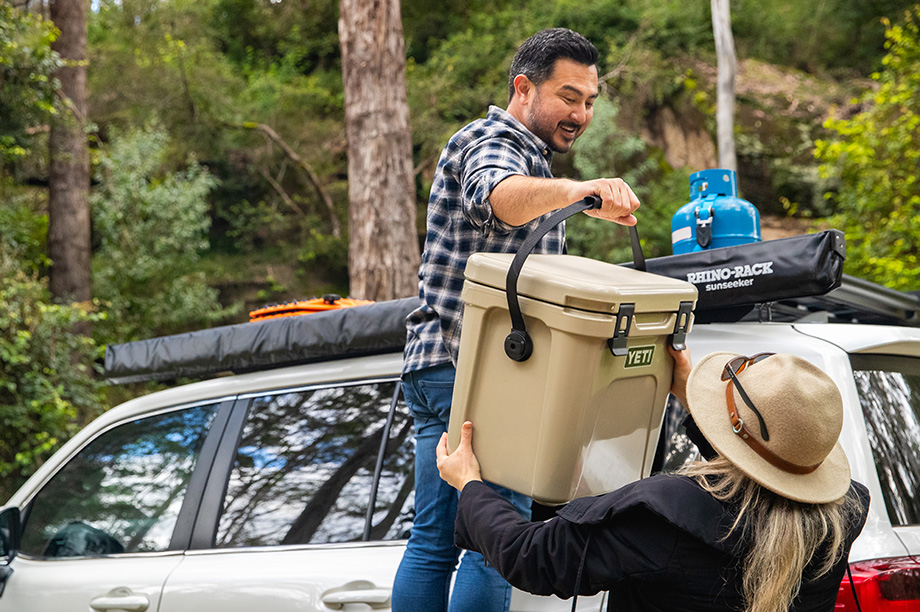 Camping roof rack accessories
Once you've installed the Pioneer Platform, it's time to pick your accessories. The great thing about the Pioneer Platform is its versatility and mounting efficiency; it doesn't take long to completely transform your rooftop from one layout to another. Tradie during the week and camper on the weekends? No problem. The same goes for when you're on your trip. Adapting your set-up to make way for your rooftop tent has never been so easy.
So, what makes the ultimate camping roof set-up? Let's get into our top picks.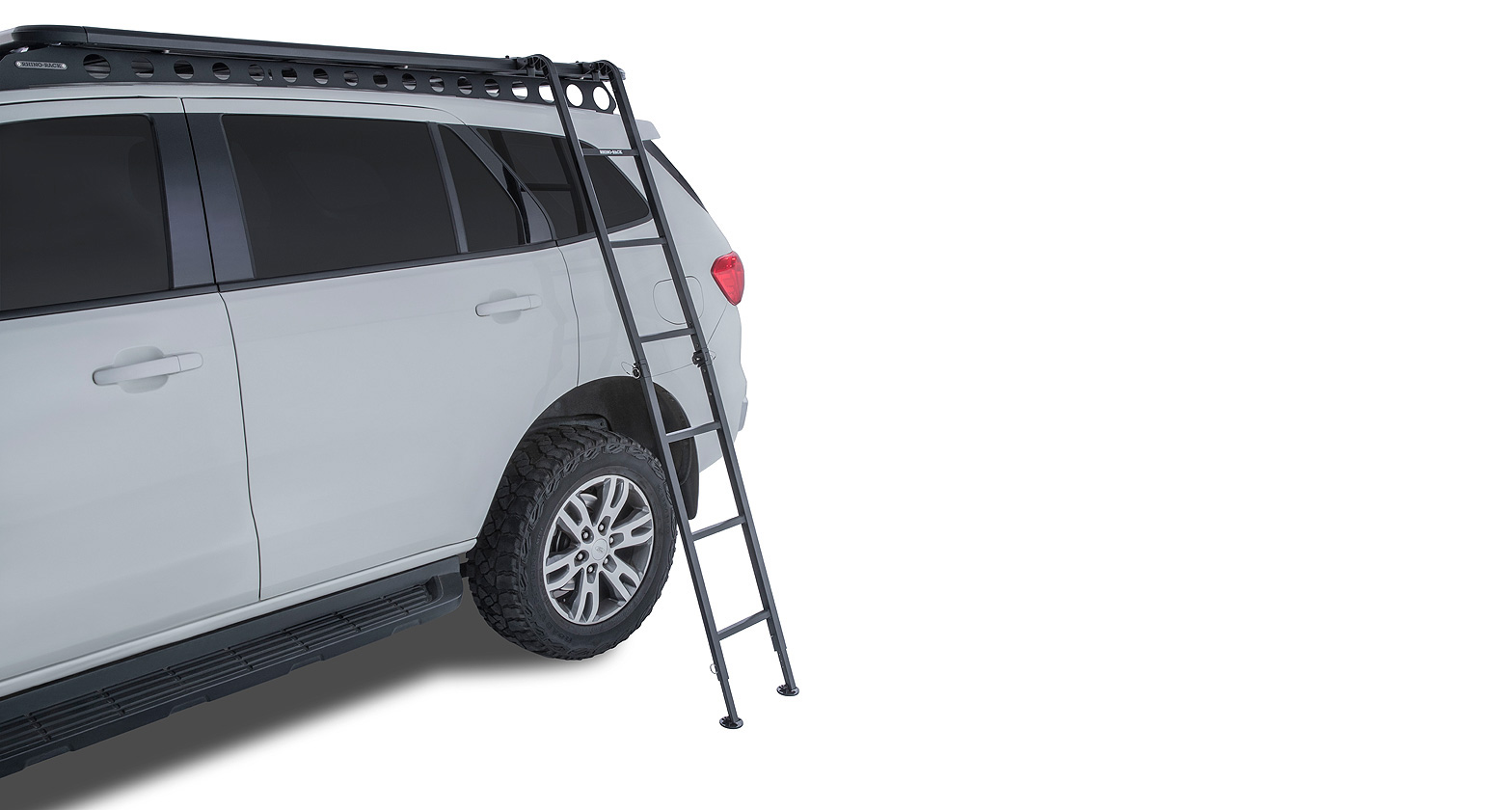 Ladder
Speaking of rooftop tents, you'll need a reliable ladder to access your mobile bedroom for the night. Our Aluminium Folding Ladder works with the Pioneer Ladder Mount (43217) and Ladder Bracket to connect to any of Rhino-Rack Pioneer Systems. To avoid issues on soft ground, the ladder is fitted with wide, adjustable feet. Its maximum length spans 2325mm (91.5") and it folds down to just 1060mm, perfect for compact storage. If you're not using a rooftop tent, you might want to consider a ladder for easier access to your roof kit. Plus, there's no better place to watch the stars.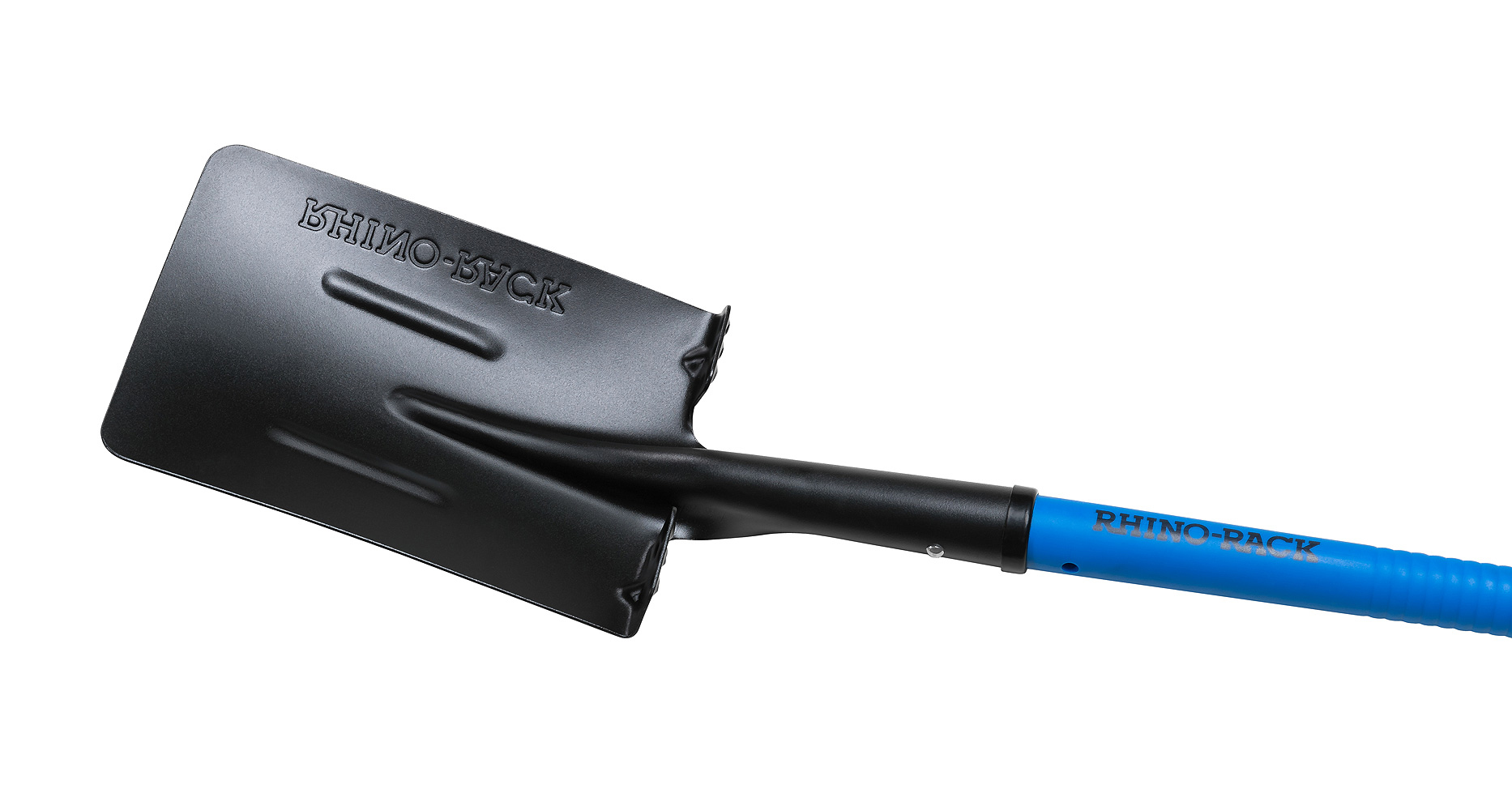 Shovel
No matter where you're camping, it's always a good idea to bring a shovel. You never know when you might need one! If you're camping near a beach, you might be tempted (and should be), to hit the sand tracks. Having an easy-to-access shovel will give you the confidence to get out there and enjoy the drive.
Check out the stainless steel, corrosion-resistant square shovel (43123). Mount it to your roof with the Stow It Utility Holder, compatible with Rhino-Rack's Pioneer Platforms, Vortex and Heavy Duty Cross Bars.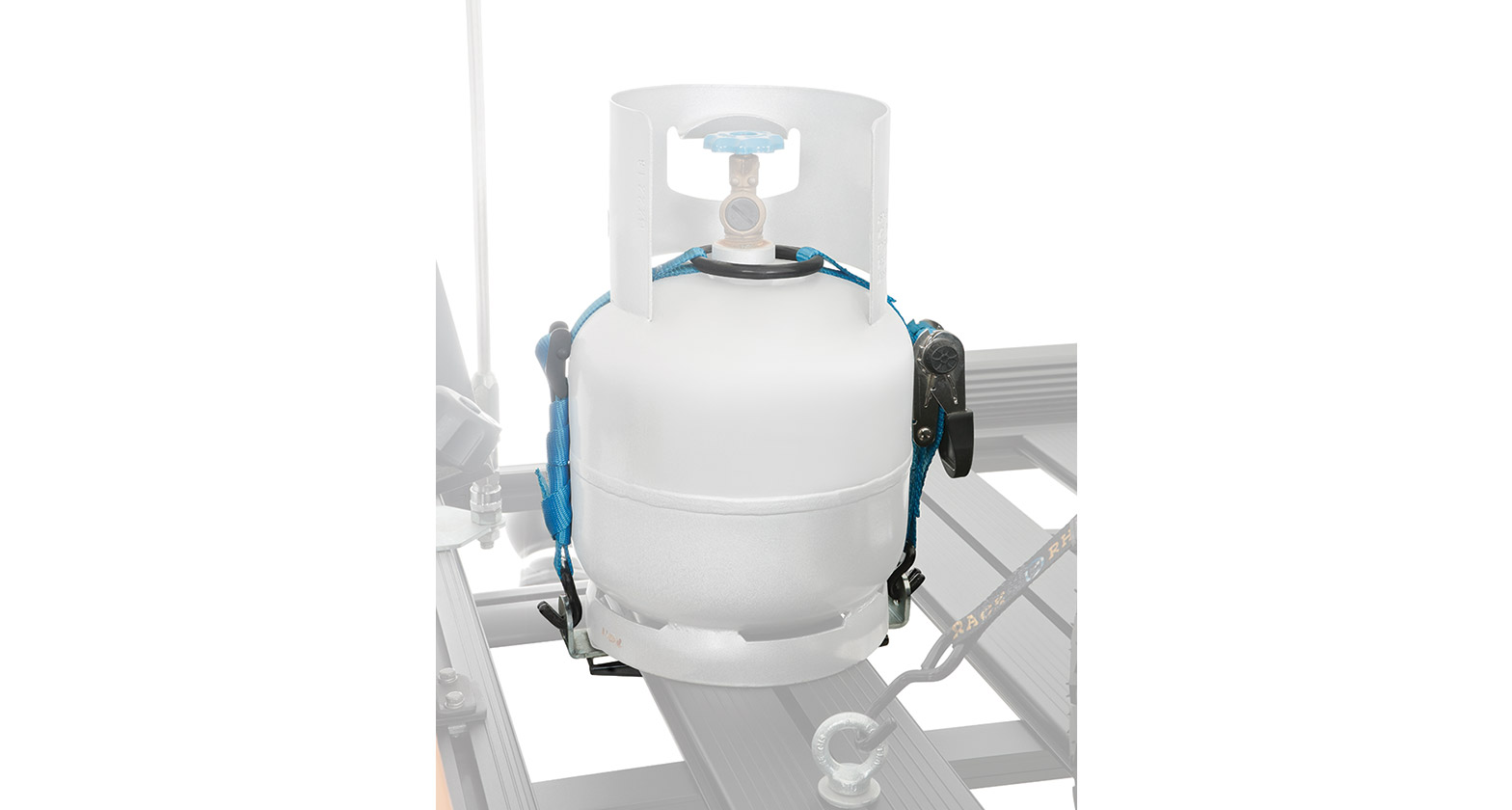 Gas bottle holder
If you're heading off-grid or taking a longer trip, it's a good idea to consider bringing extra gas. Our Gas Bottle Holder (RGBH4) strap can neatly tie down most 4.0L gas bottles, with an adjustable, easy-to-use design.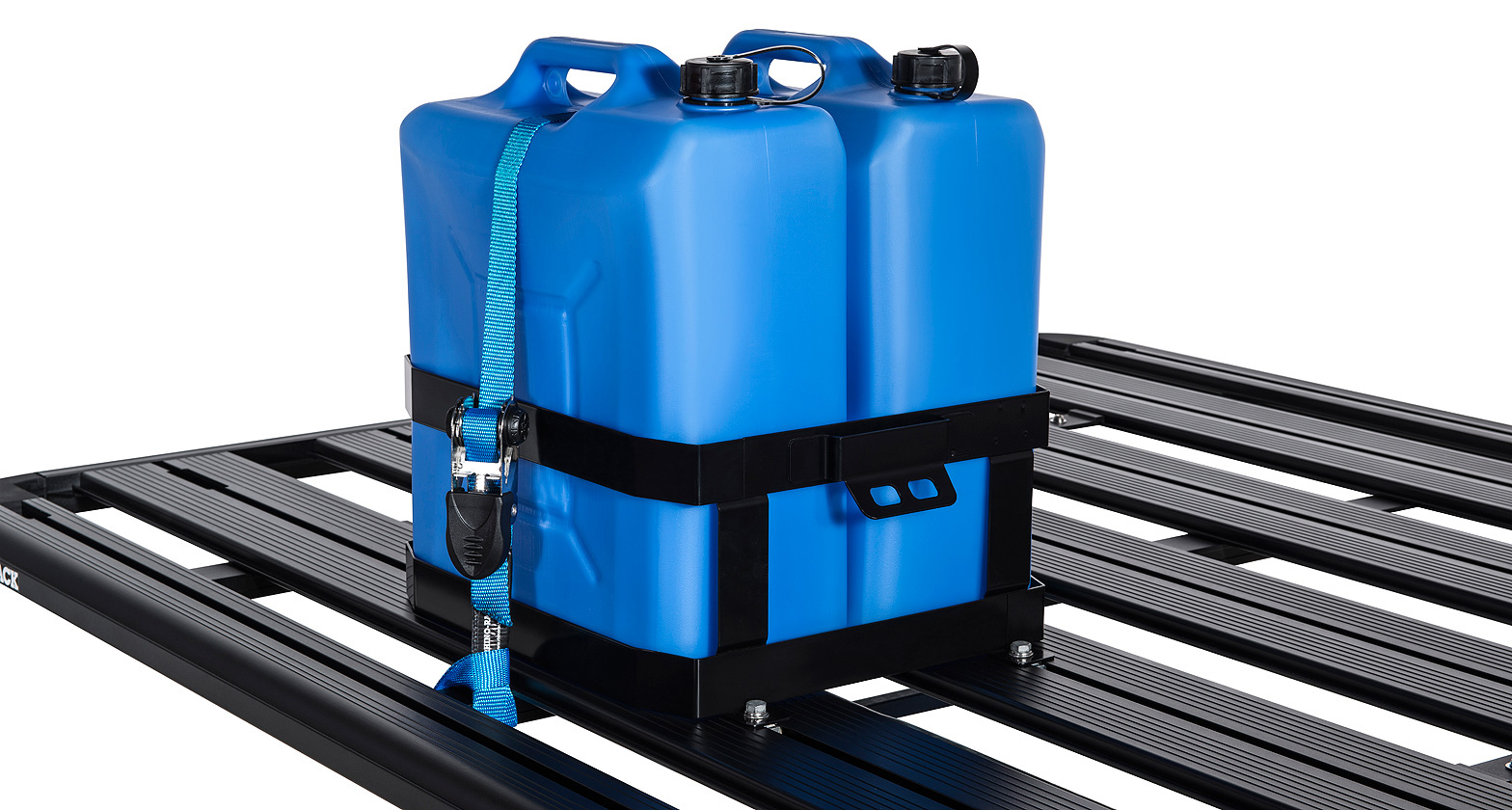 Jerry can holders
Off-grid adventures call for plenty of supplies. Along with gas, you'll also need a lot of water. Drinking, showering, cooking – it's easy to forget just how much water we use day-to-day. Store it on your roof with one of our jerry can holders, including a range of double and single holders for horizontal or vertical storage.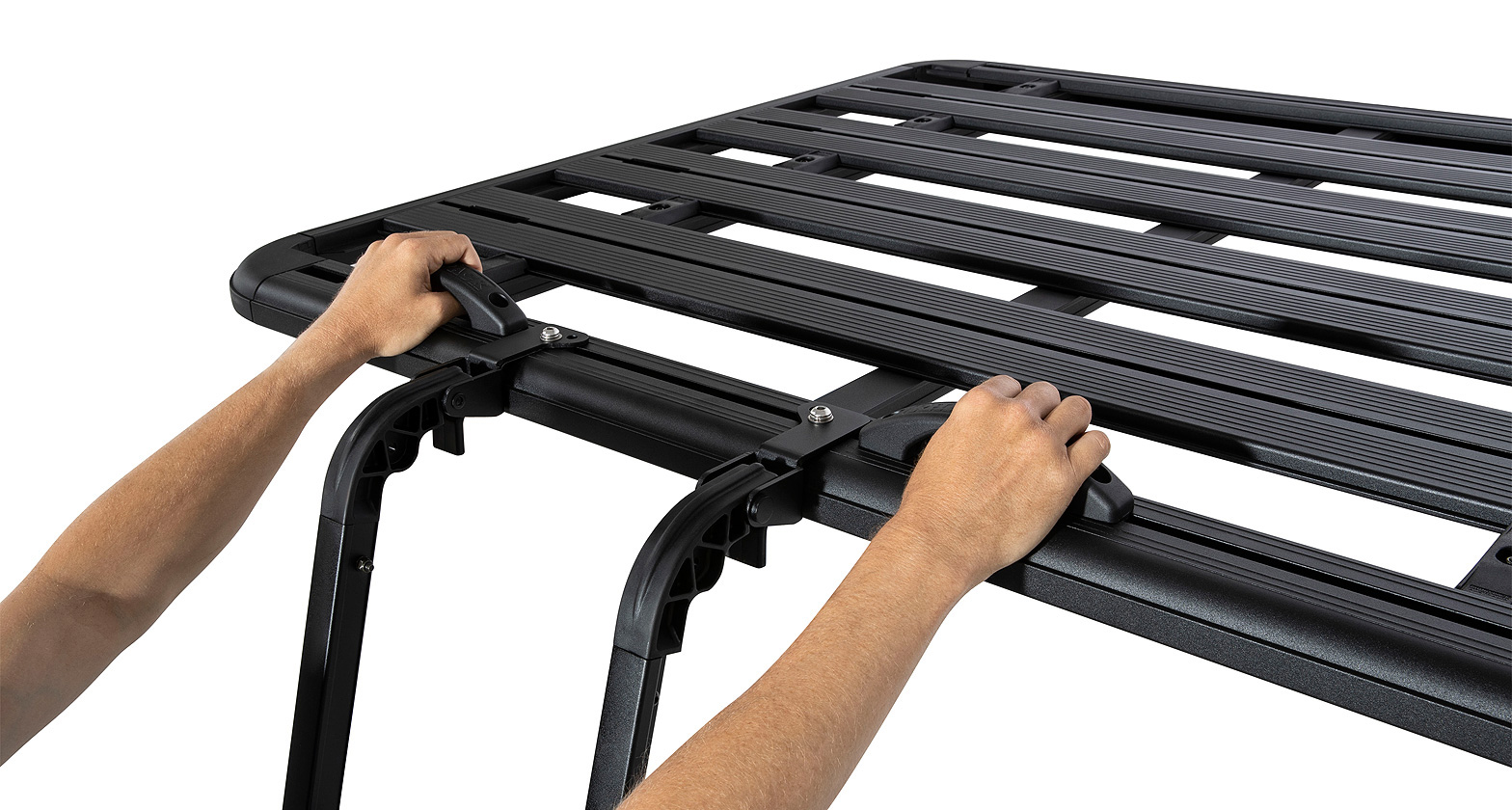 Grab handles
To make loading and unloading a little easier, mount a Pioneer Grab Handle to your Pioneer System. Whether it's used as a handle when accessing the roof or for an anchor point when strapping down gear, it's one of those nifty pieces of gear that you'll wonder what you ever did without.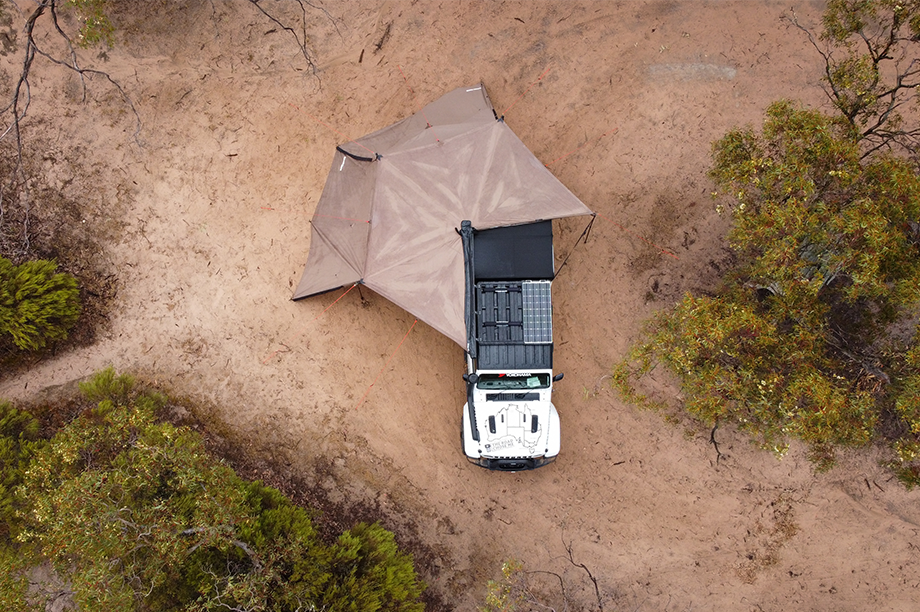 Batwing awning
Awnings are always a good idea for camping. Apart from the obvious benefits like weather protection, the extra space gives you more room to enjoy the outdoors in comfort. The Rhino-Rack Batwing is one of the most popular awnings among 4WD campers.
"The Rhino-Rack Batwing Awning is unreal. I use it a lot on family trips to stay out of the sun."
- Australian-based Ocean Photographer, Sean Scott
Made with robust, water and mould-resistant materials that offer UPF 50+ sun protection, you can be confident knowing that come rain or shine, the Batwing will offer plenty of protection. Fix it to your roof with the Stow It Starter Kit and the Batwing Adaptor.