Toyota HiAce Roof Racks
Gen 6 Toyota HiAce 3 Bar Roof Rack System -
Available Now!
Find Roof Racks for Toyota HiAce
With a proven record of offering industry leading solutions, we again are leading the market with our innovative solution for the Gen 6 HiAce. Utilising the fixed vehicle mounting points we are offering a 3-bar solution ready to work. Manufactured from high-quality materials and tested to meet Australian standards this roof rack will ensure reliability and functionality.

Features
Our 3 Bar Roof Rack system for the Gen 6 Toyota HiAce is tested and approved to Australia Standard AS1235-2000. The leg system is manufactured from glass reinforced nylon, and bases are constructed from cast alloy and finished off with powder coating for the ultimate corrosion resistance. Compatible with Heavy Duty (HD) and Vortex (VA) bars, this fixed mounted solution is perfect for all applications.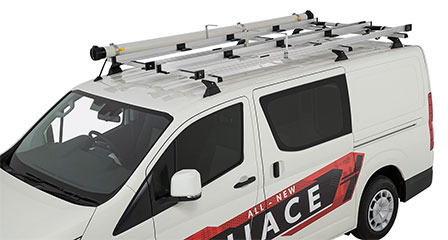 Function
Whether you are a tradie or driver, our rack system allows you to pack items on the roof of your vehicle to clear space for passengers or valuable cargo on the inside. On top of the 3 Bar Rack system you can add on a wide range of Rhino-Rack accessories to suit your needs. You can add anything from conduit holders, ladder carriers, cargo corners and luggage boxes to your HiAce 3 bar system. With a load limit of 120kg you can mix and match our handy accessories to maximise your roof carrying limit. Our kits have all hardware ready for installation – including torque indication tools and anti-rotation inserts in the leg kit.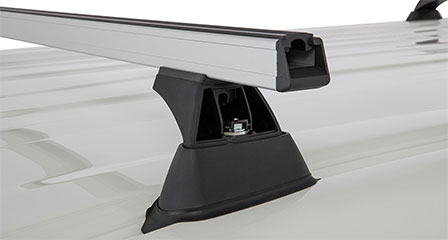 The Complete Roof Rack Solution
If you are looking for roof racks for your Toyota HiAce LWB Van or LWB Crew Van this could be the best complete solution for you. While roof rack solutions need to be functional first and foremost, our engineers have designed this system to be functional, reliable and stylish. Our new innovative solution will be sure to transform your new Toyota HiAce.