New Range of Rhino-Rack Awnings
After years of dreaming, tinkering and refining our product; years of chatting with you and gathering feedback; years of testing and developing new features, we are finally proud to announce the release of our new range of shade products. We have taken all our great new ideas and put them together to create this amazing new range.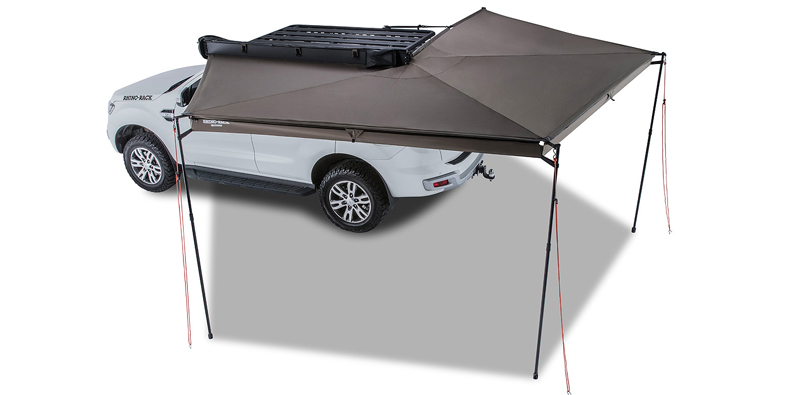 The Breakdown
The all new Batwing is packed with style and function, boasting features designed for aesthetic and easy use. With 270 degrees of shade and 11m² of coverage, the Batwing is the perfect addition for any adventure. It is made from a heavy duty, water and mould resistant material that has been tested and rated to UPF 50+, offering maximum sun protection. It is available in both left (33100) and right (33200) mounts.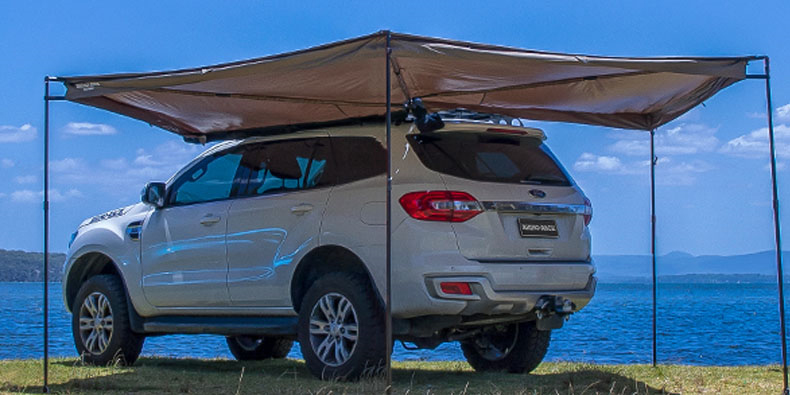 What's New
Drop down poles integrated into the awning
Rare earth Neodymium magnets lock poles into place
Integrated peg and rope pocket
Easy to grab Rhino-Rack zips
Moulded foot, enabling 2 pegs for added security
Stylish black PVC bag designed for a more comfortable fit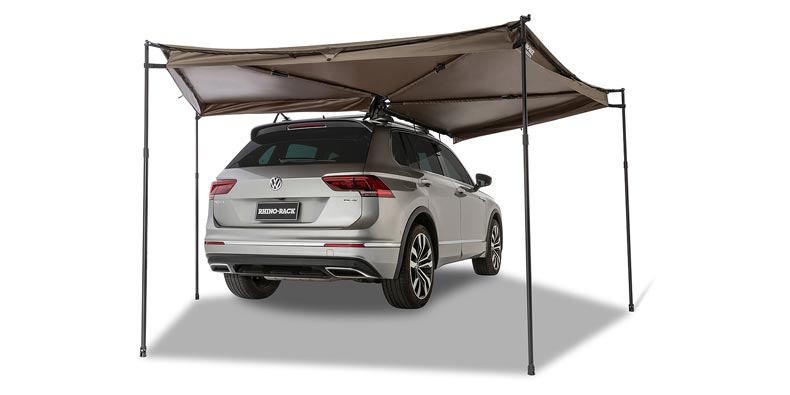 The Breakdown
The new Batwing Compact is packed with all the same features as the Batwing with a compact size perfect for short wheelbase 4WDs, small to medium vehicles and adventurous couples. With 270 degrees of shade and 6.4m² coverage, the Batwing Compact is the perfect addition for the private adventurer. Like the Batwing, it is available in both left (33300) and right (33400) mounts.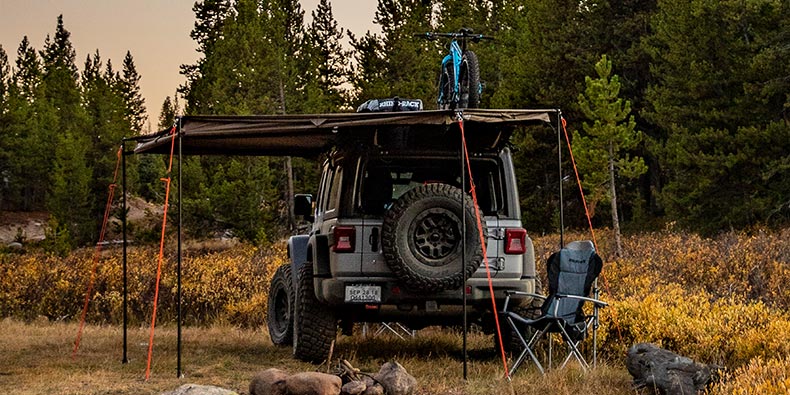 Features
Ultra durable lightweight material - 210D PO
Water resistant - PU2000mm
580gsm heavy duty large outer bag
Rhino-Rack branded pickup point included
Includes brackets suitable for Pioneer systems
Fits Rhino-Rack and Thule roof racks with fitting kits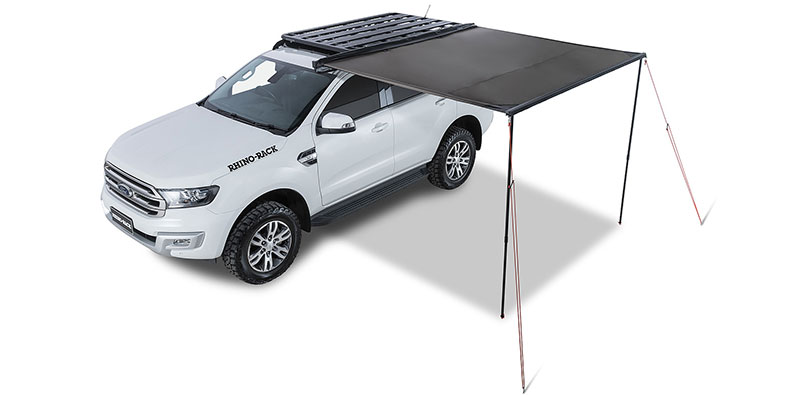 The Breakdown
For the past 10 years, the Rhino-Rack Sunseeker has been a great companion for any adventure. Still packed with the same great features you know and love, we are now proud to bring you the new Rhino-Rack Sunseeker. With black extrusions, ultra-durable lightweight material and a new black bag, this sleep new look will compliment your vehicle, delivering in both style and function.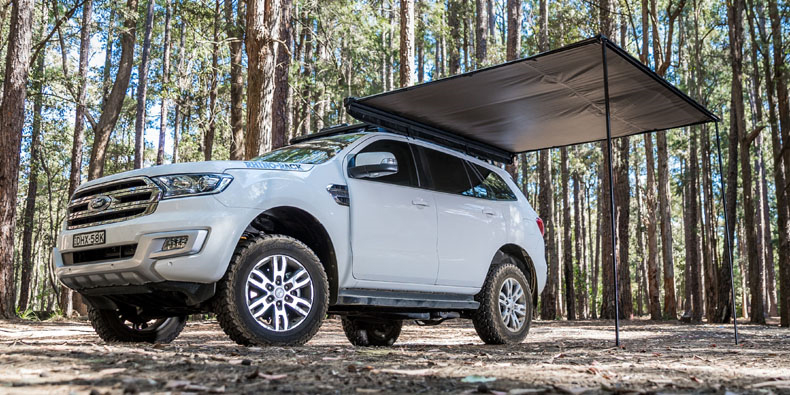 Features
Awning's length is 2500mm and rolls out to 2100mm
Made from 150D R/S water resistant canvas
UV Protected with a rating of UPF 50+ rating
Rust Proof telescopic poles
Large easy grip zipper
Stylish black heavy duty PVC 540gsm carry bag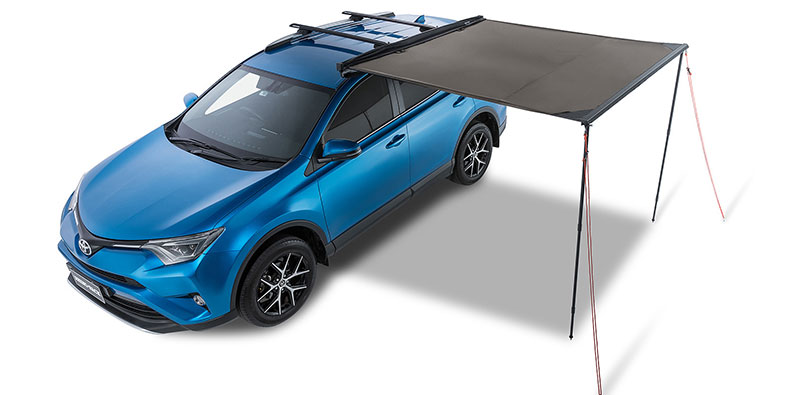 The Breakdown
Tried, tested and proven... and stylish, the Sunseeker awning provides protection from the elements for all your outdoor activities. This smaller 2.0m new Sunseeker is perfect for small to medium sized vehicles. The great news is that all your favourite accessories will still fit including: Sunseeker Awning Extension, Awning Side Wall & Mesh Room.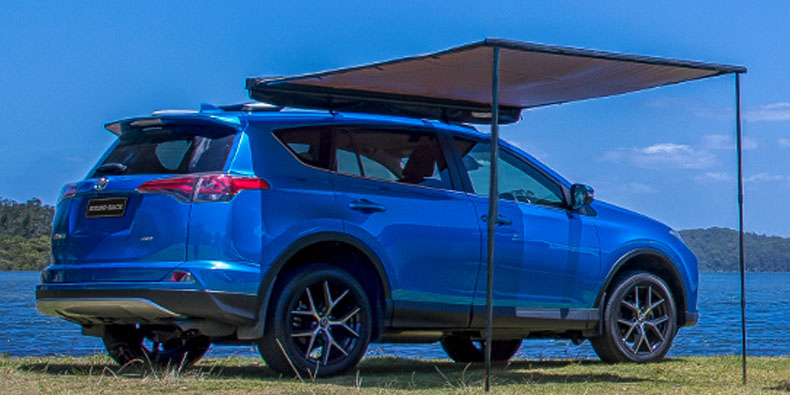 Features
Awning's length is 2000mm and rolls out 2100mm
Made from 150D R/S water resistant canvas
UV Protected with a rating of UPF 50+ rating
Rust Proof telescopic poles
Large easy grip zipper
Stylish black heavy duty PVC 540gsm carry bag