Customer Adventure Series: Jeff takes the Tundra to Joshua Tree
Losing phone reception can be scary for some people but not for Rhino-Rack customers! Losing all your bars and putting your phone in the glove box is when the adventure actually starts. Jeff Cefalia is the sort of overlanding explorer Rhino-Rack appreciate. He planned a trip to Joshua Tree and beyond and all he needed to take was his off-road gear, Theseus (his pooch), his Toyota Tundra and some satellite images of dirt roads he was trying to find. This is Jeff's story.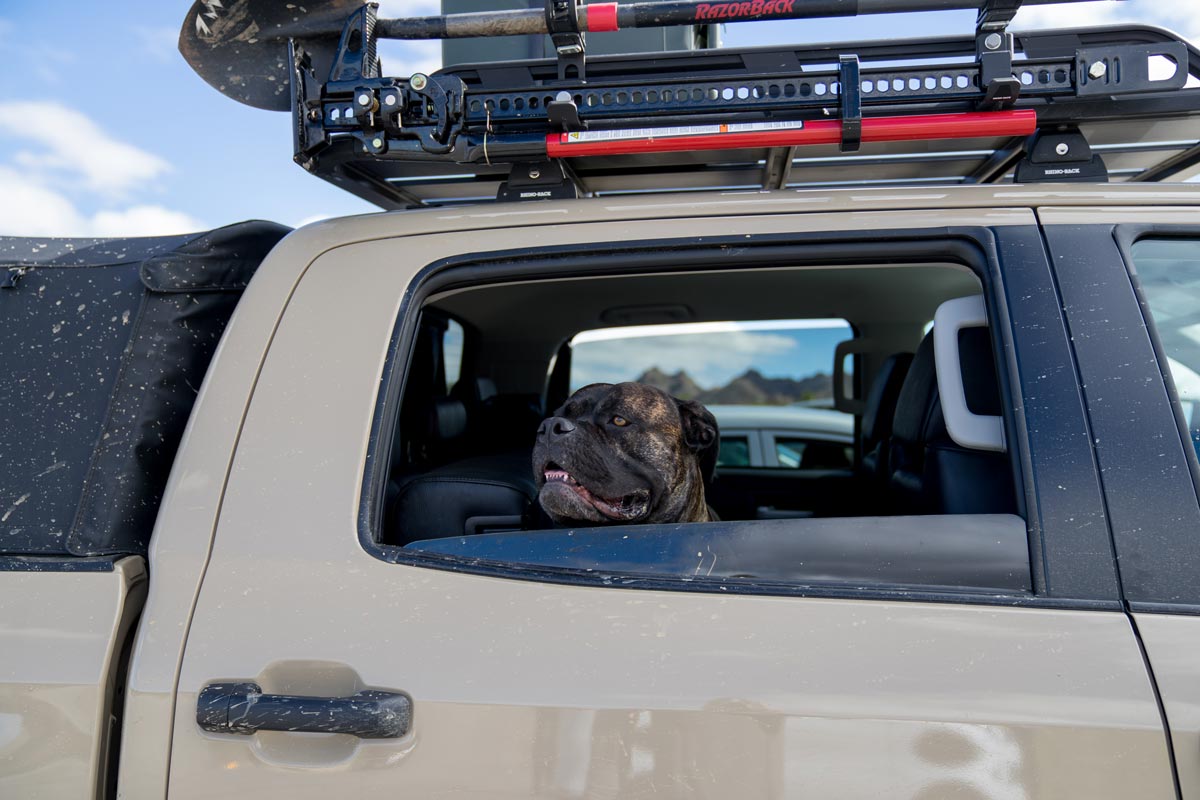 (All images supplied by @thebigtheseus Instagram)
Where: Joshua Tree, 29 Palms and Mt San Jacinto
When: February 2017
Vehicle: 2016 Toyota Tundra TRD Pro

Rhino-Rack Products: 
●    Rhino-Rack Pioneer Tradie
●    Rhino-Rack Shovel Holder
●    Rhino-Rack Pioneer High Lifting Jack Holder Bracket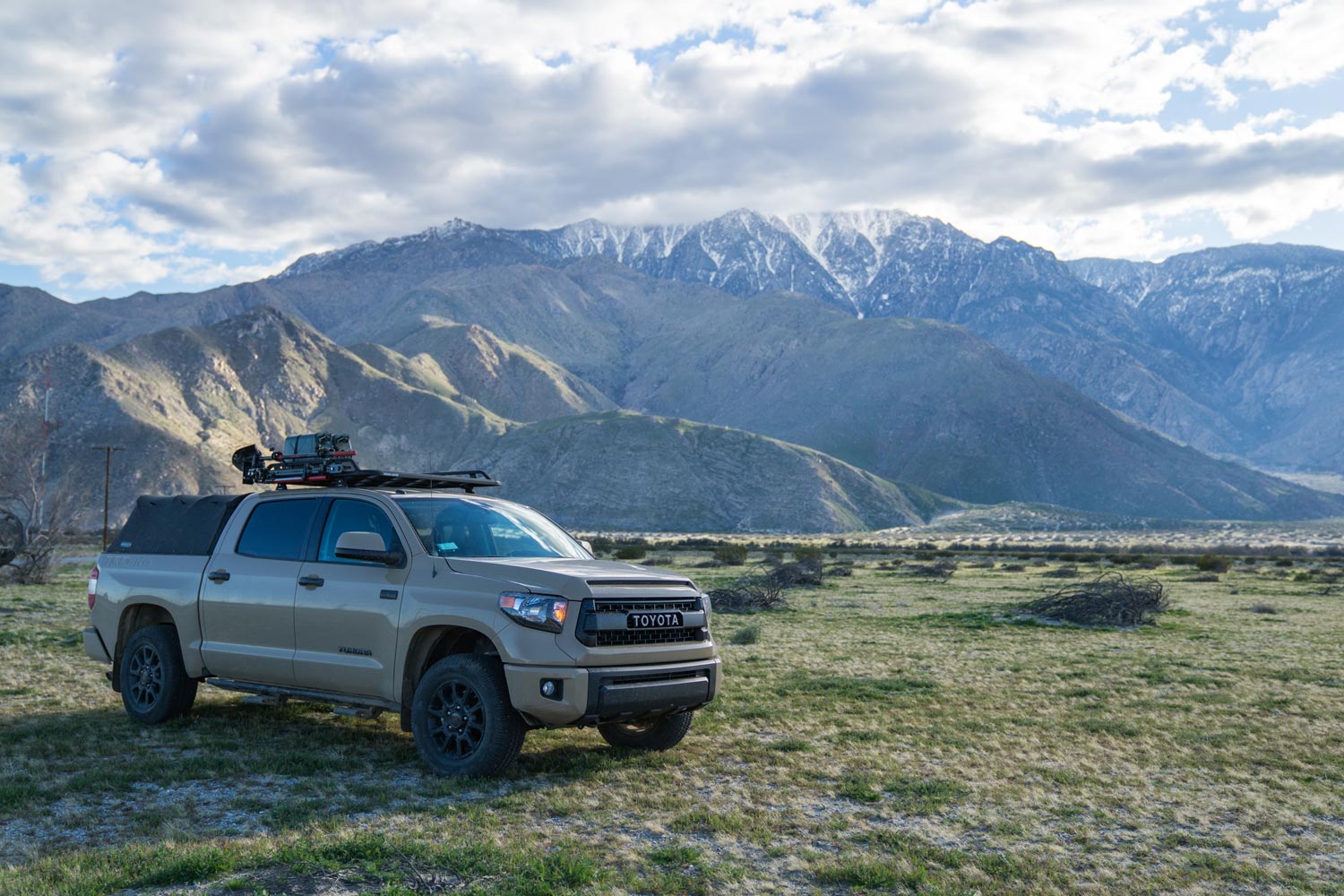 Rhino-Rack: What is it about exploring the outdoors you like?

Jeff Cefalia: I would say adventure, freedom, and solitude. The best trips are when you run into problems you have to solve; getting stuck or hitting a big storm, you never know what will happen out there.  Getting away from people and the busy day-to-day is crucial for me. My favourite moment is when you lose service on your cell phone.

Rhino-Rack: What other passions or hobbies do you have?

Jeff Cefalia: Photography, my dog, pistol and rifle shooting, camping, hiking, and of course, overlanding.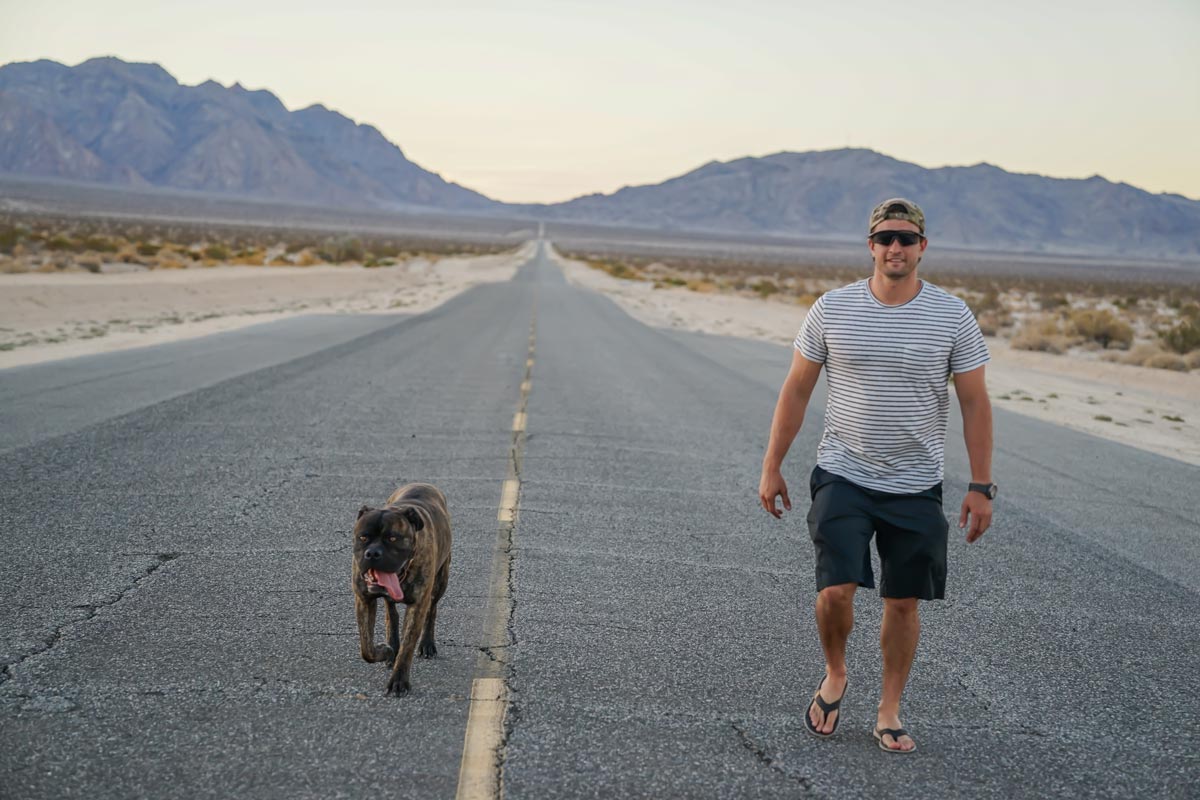 Rhino-Rack: How did you prepare for the trip? What are the important steps to take?

Jeff Cefalia: I check the truck for any issues, pack my cooler, pack water then pack my gear.  Making sure you have all the right gear is essential since in Socal we can drive 30 min and be in the mountain snow or in the desert. 

Rhino-Rack: What are the weather and terrain conditions like?

Jeff Cefalia: Most of it is sand and desert, except on the way to the base of Jacinto I hit some green rolling hills.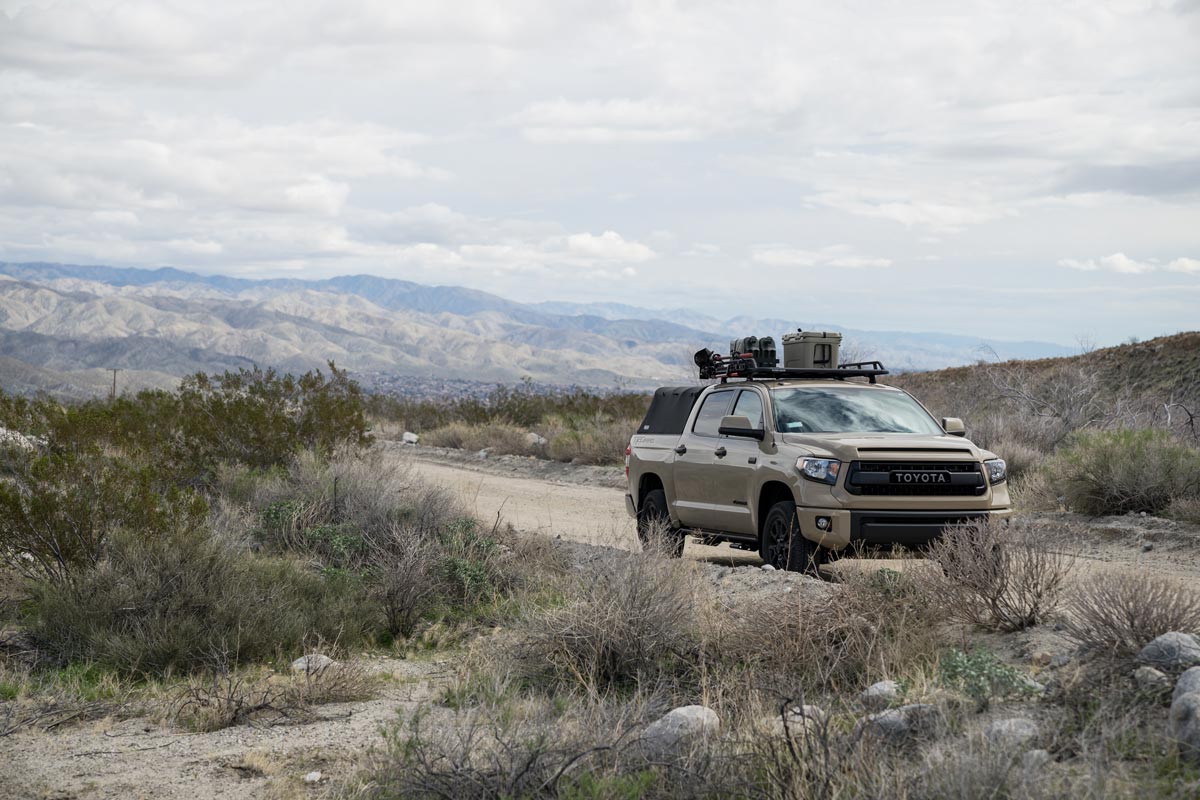 Rhino-Rack: What was it you intended to do/see/ experience there?

Jeff Cefalia: I went into the trip with no plan, just was looking on satellite images for some off road trails.  

Rhino-Rack: Did you accomplish that?

Jeff Cefalia: Yes, a few times I just pulled off the freeway and drove onto some dirt trails I saw, once I got to the Morongo area, a lot of the trails I wanted to go on were part of the Indian reservation so they would not let us through. 
Rhino-Rack: Tell me about any other explorers you met along the way?

Jeff Cefalia: Besides the busy areas of Joshua tree, I only passed one or two people on the off road trails.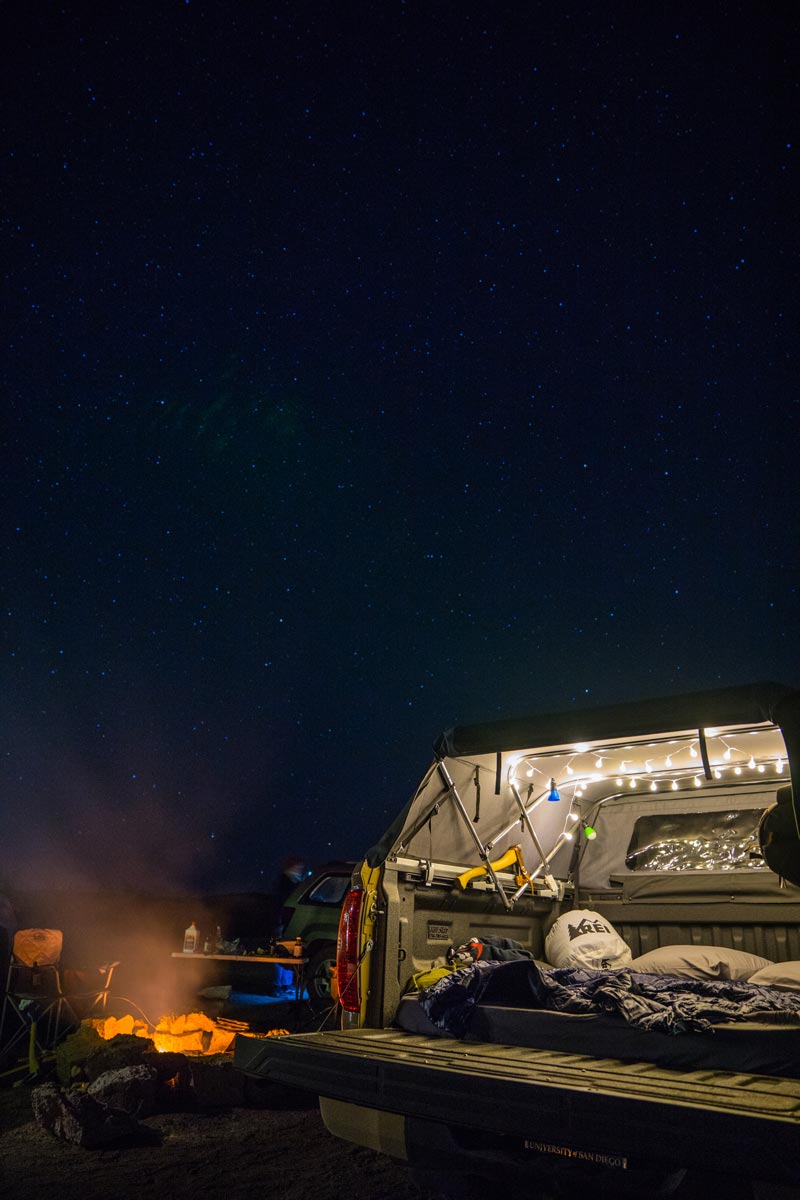 Rhino-Rack: Were there any lessons learnt?

Jeff Cefalia: Slow down on the rock crawl sections! I bent my step on my rock rails because I tried to go too fast over, it could have easily been avoided.

Rhino-Rack: How did Rhino-Rack products help to facilitate your adventure?

Jeff Cefalia: The Rhino-Rack is perfect for these trips. I carry my shovel, Hi-Jack, extra fuel and the cooler on the rack. When I set up camp I usually clear the platform and use it for photography. 

Rhino-Rack: Did you face any obstacles along the way and how did you get around them?

Jeff Cefalia: The biggest obstacle was almost running out of gas half way through the berdoo canyon road in Joshua Tree, luckily I had my gas cans.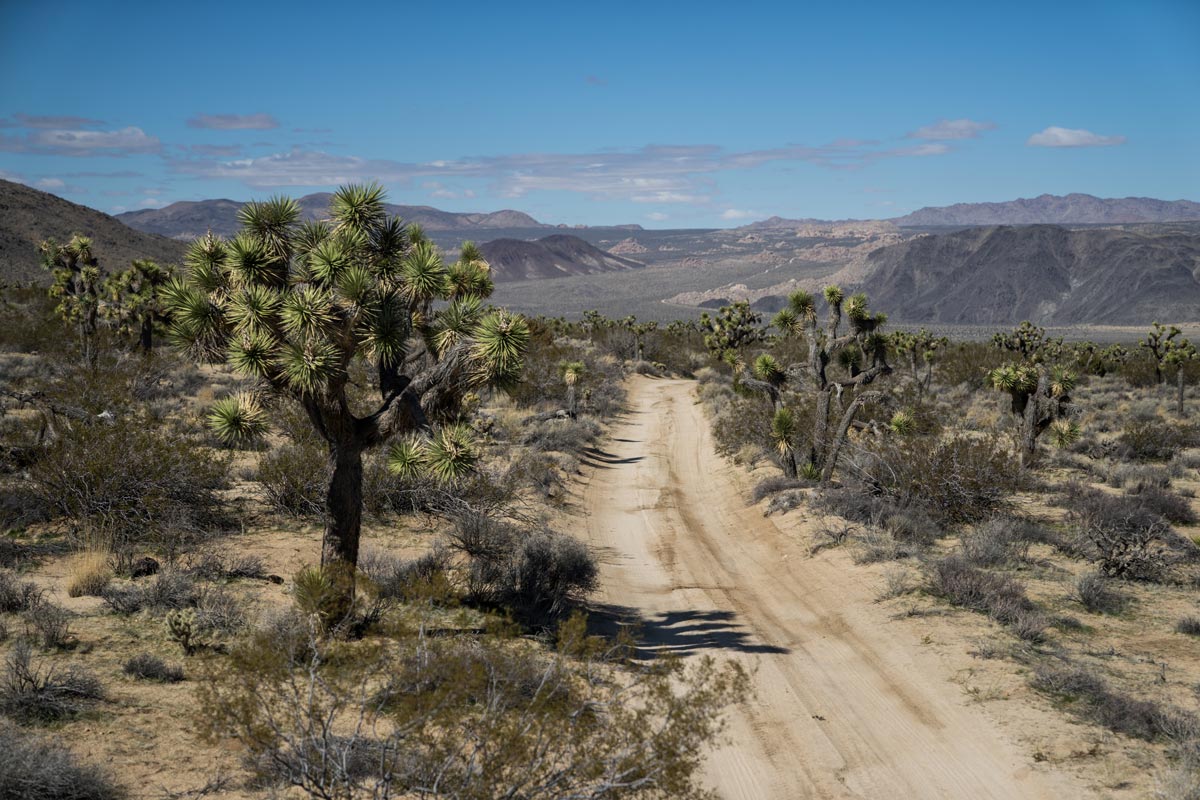 Rhino-Rack: What is it about the destination or the journey of your adventure that makes the trip worthwhile?

Jeff Cefalia: Unless there is really something I want to see, I usually go on these trips with no plan, make the journey and the destination the same thing.  There is no destination, just exploring and testing what the truck can handle. 

Rhino-Rack: Was there any wildlife or landscape that particularly stands out?

Jeff Cefalia: Mt Jacinto looked amazing because it just got ~5 feet of snow and the green rolling hills were a bright green that went on for as far as you could see. 

Rhino-Rack: What's the logistics of the adventure that other thrill seekers can follow?

Jeff Cefalia: Make sure you have enough water and food to last a few days and your gear is ready for the worst terrain you may encounter. Plan for the worst hope for the best. If you run into problems or get stuck, do not let it ruin your trip, embrace it, that is why you are out there. 
"The place where you lose the trail is not necessarily the place where it ends." ~Tom Brown Jr.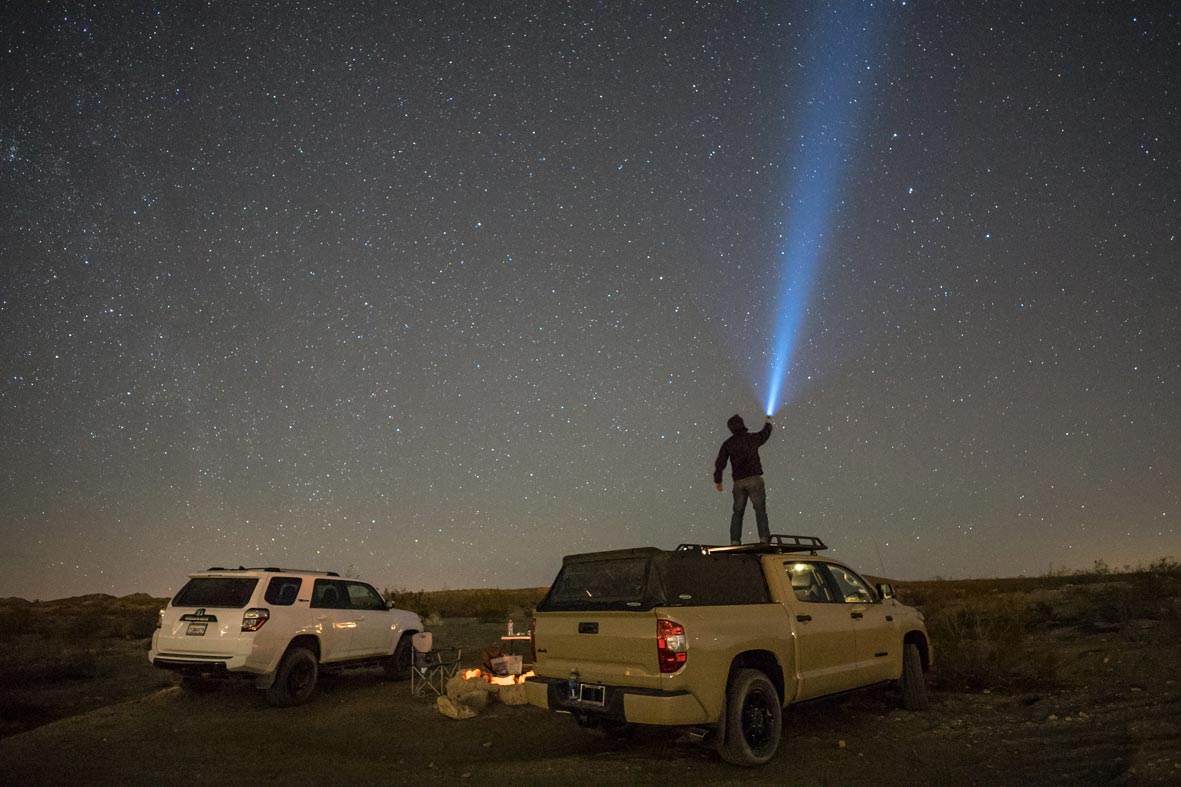 Rhino-Rack Customer Adventure Series
We'll be posting stories taken directly from Rhino-Rack Customers. Adventurers who want to share their explorations around Australia and the world. If you'd like to get involved in the Customer Adventure Series please contact Rhino-Rack through any of our social media platforms below.

Facebook: facebook.com/rhinorack || Instagram: @rhinorack
Customer Adventure Series the Beauty of Unguided Exploration

A guided tour is nice but being able to turn away from the group and explore wherever you want is how Rhino-Rack likes to adventure. There's more magic in using your own senses to spot the dolphins in the waves or the dingo in the bush than having it pointed out to you.

An awning is a fantastic way to take your adventure to the next level, and Rhino-Rack has a range to suit just about any application. There are three main considerations you need to think about prior to purchasing your awning.