Customer Adventure Series: Mersey State Forest
Emily Rainbow doesn't sound like the name of your typical 4WD adventurer and outdoor explorer but this Tasmanian full time tourism student is all that and more. As the focus of Rhino-Rack's Month of July Customer Adventure Series I got the low gear on a trip that kept Emily Rainbow's revs up.


(Check out her Instagram @emily_rainbow123)
Where
: Mersey State Forest, North-West of Tasmania
When: February 2015
Rhino-Rack Products:

Rhino-Rack: Where and when was your adventure set?
Emily Rainbow: On the last weekend in summer 2015 my boyfriend and I headed off towards the North-West of Tasmania to do a lakes camping/4wdriving/fishing trip in the Mersey State Forest. We explored around 4 different lakes that weekend, Lake Huntsman, Lake Mackenzie, Lake Parangana and Lake Rowallan.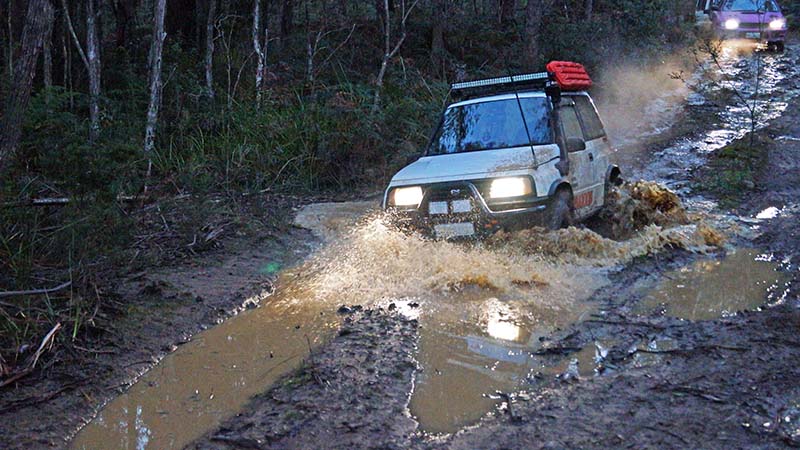 Rhino-Rack: How did you prepare for this trip? What are important steps to take?
Emily Rainbow: Living in Tasmania you learn over time that within hours the weather can dramatically change from summer to winter conditions. Even heading off in summer we hit some bad weather on the Saturday. I always have everything ready as I do a lot of last minute adventures. I keep a good eye on my 4wd to make sure it's always in good shape and ready for whatever I throw at it. I was lucky enough to have just finished the off-road camping trailer and that was sitting there loaded with everything from wood to cooking gear. All I had to do was hook the trailer up, get some food, fuel and start up my gps system for directions.
Rhino-Rack: What are the weather and terrain conditions like?
Emily Rainbow: The Mersey Forest area really caters for everyone no matter what method of transport you have. The main roads to the dam are gravel and luckily in my case there are many harder tracks in and around the lakes. Wanting to test out how my 4WD handled the off-road camper I chose to take the harder tracks where I came across water crossings, steep hill climbs (both firm rocky base and wet slippery mud), over grown and rough tracks, mud and a lot of rock crawling.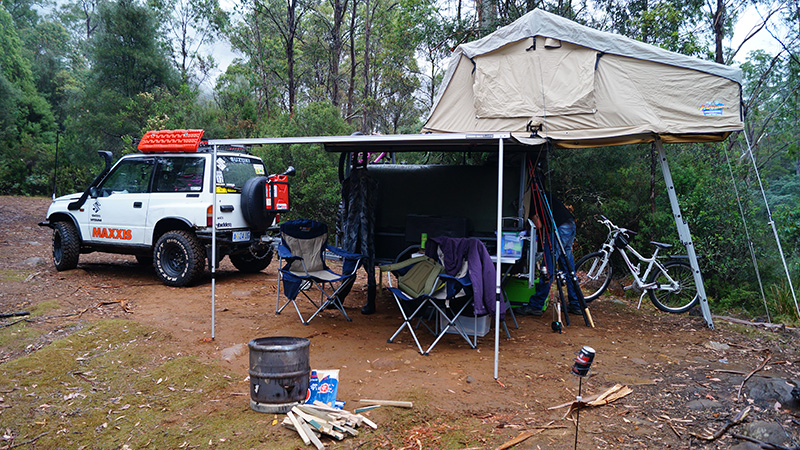 Rhino-Rack: How did Rhino-Rack products help to facilitate your adventure?
Emily Rainbow: Rhino-Rack has got themselves a lifetime customer here. Before having Rhino-Rack Vortex Racks and Mesh Basket on my 4wd it was impossible to carry all my 4wd gear around. Being heavily into 4wdriving and touring I needed to find a great quality roof rack system for my Suzuki Vitara. Word of mouth yelled at me to go for Rhino-Rack and all online reviews put them highly above everyone else. I'm more then happy I went with Rhino-Rack and haven't looked back since. I've now added a Rhino-Rack Sunseeker 2 awning on my off-road camper and Rhino-Rack Shovel Holders on my roof system. The great quality of the products is what keeps me coming back. No matter what I've thrown at the 4wd and camper trailer they come out looking and performing like new.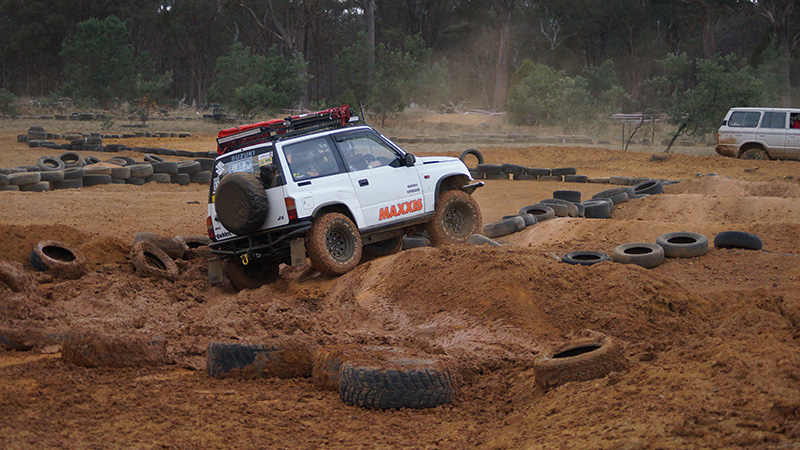 Rhino-Rack: What is it about Tasmania's Mersey State Forest and off-roading you enjoy?
Emily Rainbow: One of the most worthwhile parts for me is the scenery, it's beautiful. This part of Tasmania is hidden away and quiet making it very peaceful and relaxing. There are lakes, caves, waterfalls, mountains with snow on the peaks and fresh flowing rivers surrounded by ferns. Getting to camp, 4wd and fish in this area makes the whole trip worth while. The number one thing I enjoy about 4wdriving here is getting to see and explore places not everyone else can. It's breathtaking some of the places my 4wd has taken me over the years. I've been lucky enough to meet some really great people in the 4wd community which I now consider my closest mates.
Tasmania is a rugged frontier that demands preparation and experience on 4WDing and Camping adventures. The scenic destinations are stunningly beautiful but the terrain and weather patterns spin like a bald tyre in a mud slick so having the right gear for rain and shine will make the best of your trip.
Customer Adventure Series
We'll be posting stories taken directly from Rhino-Rack Customers. Adventurers who want to share their explorations around Australia and the world. If you'd like to get involved in the Customer Adventure Series please contact Rhino-Rack's online department via harry.patchett@rhinorack.com.au or through any of our social media platforms listed below.
Facebook: facebook.com/rhinorack || Instagram: @rhino_rack || Twitter: @rhinorack