Customer Adventure Series: Double Island Point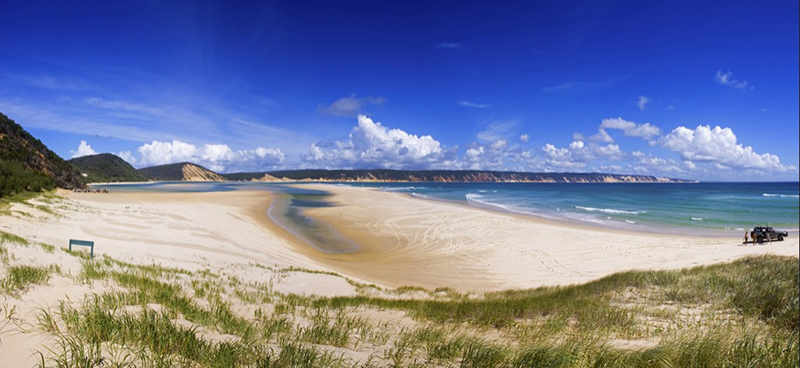 Location: Double Island Point, Qld
Taylor Sutton
is a tradesman, fisherman, surfer and a Rhino-Rack customer. He tagged Rhino-Rack in photos on his Instagram account. We saw how our products helped facilitate his adventures. I contacted him for an interview as the first of Rhino-Rack's new Customer Adventures Series.

Where: Double Island Point, Qld.
When: Australia Day Long Weekend
Rhino-Rack Products:
Sunseeker 2.5m Awning (link)
2 Vortex Bar System (link)
Steel Mesh Basket Large (link)
Double Island Point is North of Noosa Heads on the Sunshine Coast and is part of Cooloola National Park. In contrast to the teeming social scene of Noosa, Double Island Point is undeveloped remote splendour. When tourists plan trips to Australia it is coastal paradise like this they imagine first.
Rhino-Rack:
When was your last trip up to Double Island Point? Tell me a bit about it.

Taylor Sutton:
Three mates and I used the Australia Day long weekend to take my Holden Colorado Dual Cab up to Double Island Point. It was a cracking summer weekend with clear skies, scorching sun and warm water. You need a 4WD to make it to Double Island Point and I was the only person with one so we all piled in.
Rhino-Rack:
How did Rhino-Rack help you prepare for the trip?
Taylor Sutton:
Summer in Queensland melts the thongs under your feet so I knew I'd need shade. I didn't want to pack tarps and poles so I treated myself to a
Rhino-Rack 2.5m Sunseeker Awning
. Installing it to my
Vortex 2 Bar System
was easy after work on Friday. For the long weekend we wanted to bring swags, tents, fishing rods, surfboards, camping chairs, food, water and a full esky. Because my car is a Utility Colorado I know how important it is to make use of space.
Rhino-Rack:
How did you fit four guys camping/surfing/fishing gear in?
Taylor Sutton:
The utility tray was filled with the swags, esky and camping gear. I bought my
Rhino-Rack Large Steel Mesh Basket
ages ago, when I was still a carpentry apprentice, for weekend adventures like these. We piled that high with gear and strapped surfboards and fishing rods to the top.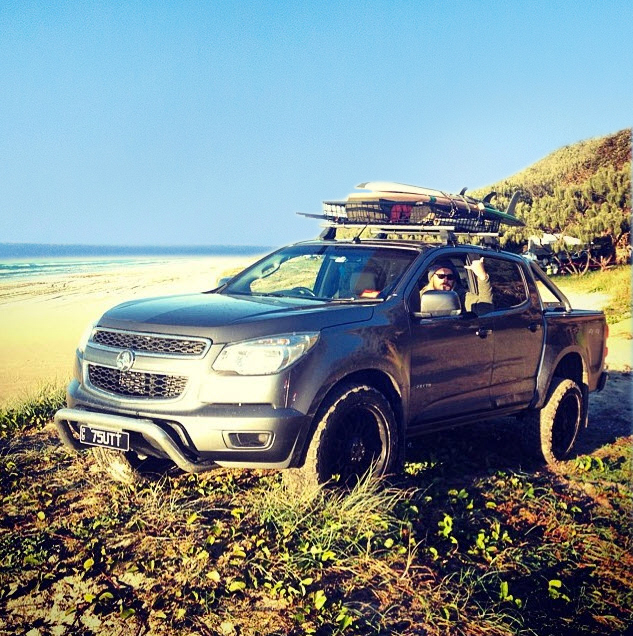 Rhino-Rack:
So you drove from Brisbane up to Noosa Heads, Sunshine Coast then along Forty Mile Beach to Double Island Point. Any issues there or smooth driving?
Taylor Sutton:
Now that I've gotten all the right Roof Rack gear there's no issues.
Rhino-Rack:
What happened when you didn't have the right gear?
Taylor Sutton:
When you're cruising along the beach there are small water outlets that trickle from the scrub, which borders the beach, down to the ocean. These effectively cause speed bumps in the great sandy road. If you're not on your game then they can cause some strife. I spotted one and slowed but not enough. We bounced over it and I glanced in the rear view to see my fishing rods hovering briefly before they banged back into the tray. I could also hear the camping gear churning in the tray. When we arrived at the point two of the rods I'd brought had snapped.
Rhino-Rack:
Not a good way to begin a trip away.
Taylor Sutton:
Nah, but this time I had all the right Rhino-Rack gear and made it to Double Island Point without any issues.
Rhino-Rack:
Why should adventure seeking people head to Double Island Point?
Taylor Sutton:
It's incredible up there; after a full day of fishing and surfing we sat on the beach and watched whales come so close to shore I could see the blow holes open as they shot water into the air. That and this area is more open to swell than Noosa and far less crowded. There is also the Rainbow Sand Hills to explore. You can drive up into them, they're stunning. At low tide a lagoon forms and 4WDs park up next to it. There are families and friends and boats and jet skis all over the place. It's bloody great. I just pop the Sunseeker Awning out, lay about in the tidal lagoon and enjoy the sunshine.

Getting to Double Island Point Starting from Noosa Heads:
Take a five minute ride across the Noosa River on the Noosa North Shore Vehicular Ferries. From here take the one road to Tewantin Beach, otherwise known as Forty Mile Beach. This ferry operates from 6am to 10pm, Monday to Friday, and from 6am to 11:59pm on weekends. The fun starts here as you drive an hour north along open beaches. This drive can be tricky depending on the tide and what load your carrying. It's best to consult a tide guide make the drive at low so you have plenty of beach to work with. Also keep an eye out for small waterways trickling from the coastal scrub bush, which borders the beach, heading for the ocean. These create ruts and deviations in the sandy road.
Customer Adventure Series
We'll be posting stories taken directly from Rhino-Rack Customers. Adventurers who want to share their explorations around Australia and the world. If you'd like to get involved in the Customer Adventure Series please contact Rhino-Rack's online department via harry.patchett@rhinorack.com.au or through any of our social media platforms listed below.
Facebook: facebook.com/rhinorack || Instagram: @rhino_rack ||Twitter: @rhinorack