Customer Adventure Series: Sean Scott Photography
Sean Scott started out as an electrician, before switching industries and is now living the dream as a professional landscape photographer based in Burleigh Heads. He's been lucky enough to explore much of Australia, taking stunning pictures as he goes. We got the chance to catch up with Sean.
Rhino-Rack: First up, Can you tell us a bit about yourself, were you always passionate about photography?
Sean Scott: As a kid, I always liked to show people things, I found photography the best way to do this. In my early 20's I stepped into photography more, my wife and I went on a trip to Tasmania which really inspired my photography. I started out printing my images, making frames for them and selling them at the local markets whilst working full time as an electrician. It took many years but I'm now fortunate enough to have turned my passion into a career.
Rhino-Rack: What vehicle are you driving, and what mods were made to it?
Sean Scott: It's a 79 Series Toyota Land Cruiser. All these modifications were designed by Pro Touring Concepts:
300mm Extended Chassis
Norweld Canopy
Redarc battery management
solar
It was designed to be a standalone outback photography vehicle. It's my dream car! The Rhino-Rack products fitted include:
Pioneer Tray
MaxTrax Flat bracket
Shovel Bracket
Shovel
Sunseeker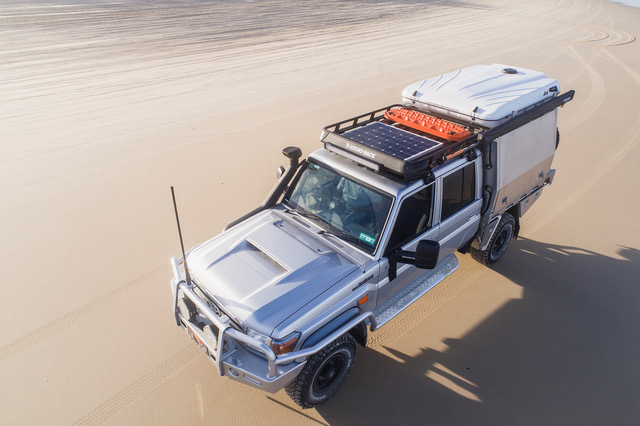 Rhino-Rack: I understand that you're currently travelling around Queensland at the moment for Queensland Tourism, Where have you been so far? and where to next?
Sean Scott: In the last 2 months I've travelled to North Stradbroke Island, Fraser Island, Moreton Island & Double Island, and am heading to Canada now.

When I return I'll be driving to meet my family in Perth. Crossing the Nullarbor and spending 4 weeks driving from Perth to the Kimberleys with my family. I love the west so I'm excited to get back over there.
Rhino-Rack: For those of us who haven't been, tell us about Stradbroke Island and also Fraser Island? What did you get up to? How was the camping? (The video on QLD Tourism looked spectacular!)
Sean Scott: The Camping was unreal, and it's pretty much on our doorstep. I had the family and caravan over at Stradbroke and we camped at Amity Point which was insane. The second leg of the trip I ditched the caravan and did Fraser Island, Double Island & Moreton Island for a bit of bush camping. I found some incredible new camping spots on the beach surrounded by freshwater creeks which you could bath in.
The marine life was insane and the water conditions were even better. We checked out the iconic Eli Creek at sunrise with no crowds and dropped by the Champagne Pools for a look. On the low tide we drove up to the cape which was awesome to check out, but be careful with the high tides, you can get stuck. We had to do some rock climbing to get around the outgoing tide. It's well worth a visit, it's some of the best camping I've ever done and it's so close to home.
(Stradbroke Island)
(Fraser Island)
Rhino-Rack: Now to outback Queensland, What has been your favourite part so far and why?
Sean Scott: Camping near lake Broadwater, Caligarela lagoon was a highlight of my outback trip. There was no light pollution so it made for some epic astrophotography. The beauty of this camping spot meant that I could work and camp in the same location. I could photograph sunset and sunrise over the lake just 10 steps from the caravan and kick back and watch movies in-between taking star shots.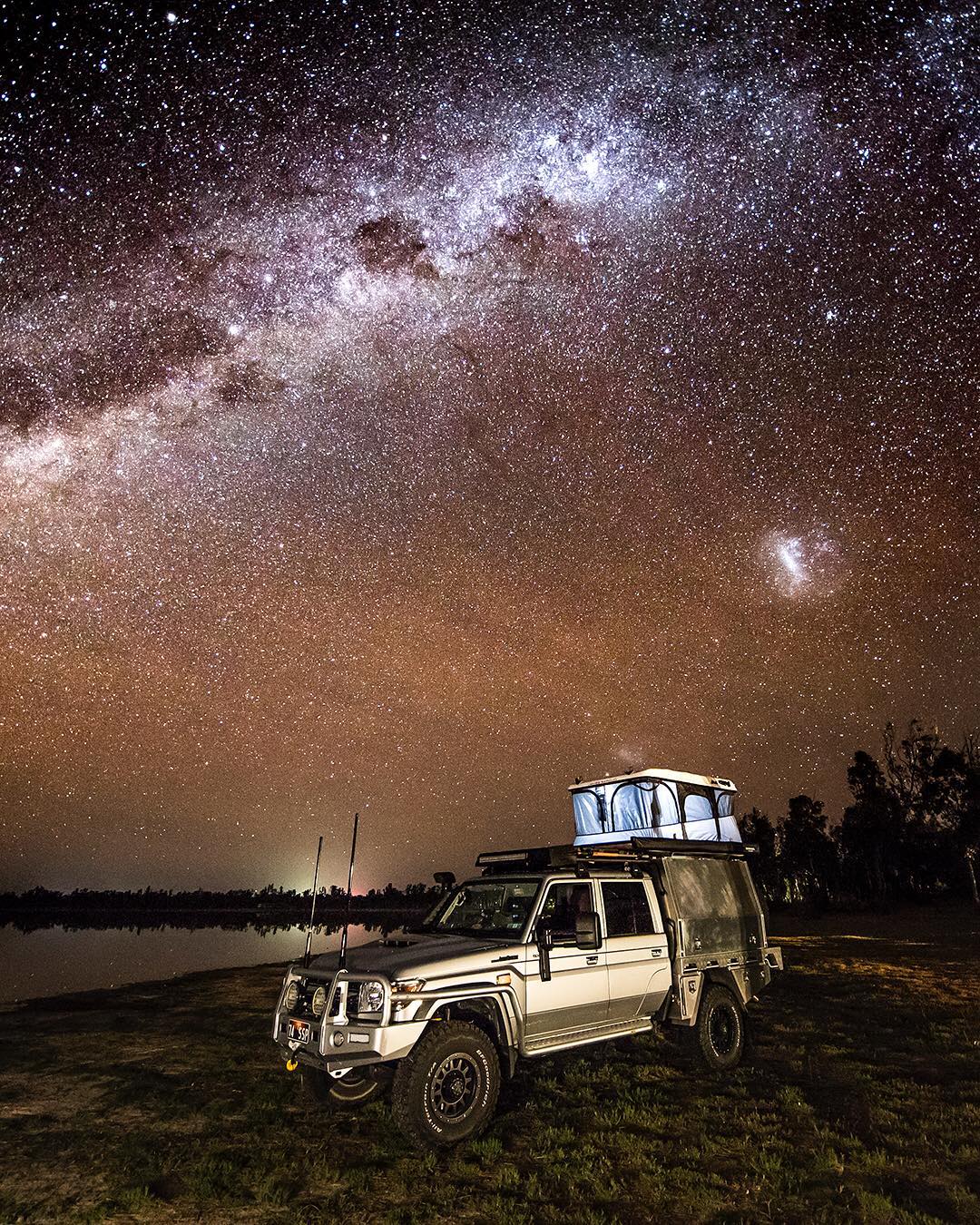 (Lake Broadwater)
Rhino-Rack: Tell us a bit about capturing the perfect shot? do you have a process?
Sean Scott: When I have the freedom and when I'm on the road my senses go into overdrive. I take a variety of different style of imagery so I'm always looking out for epic landscape and water/weather conditions. I also revisit the same locations at different times of the day. I'm always moving so the opportunities jump out at you.
Rhino-Rack: One last question: What is the most beautiful place in Australia you've been and why?
Sean Scott: Tough decision but I'd say Lucky Bay, Western Australia. The campground is second to none with white sand beaches and crystal blue water. The beach is littered with kangaroo and it's surrounded by stunning landscapes.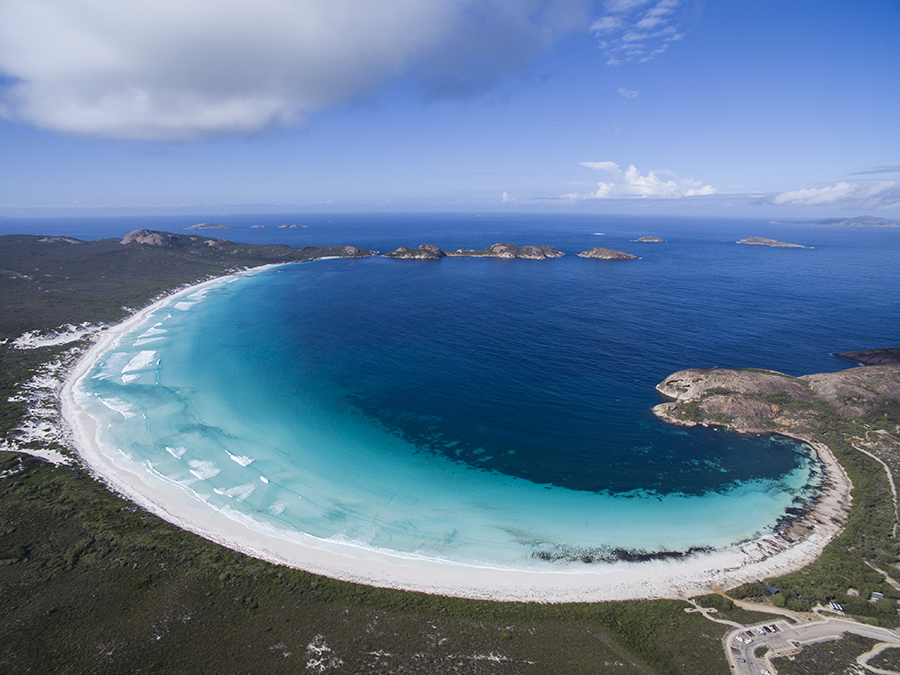 (Lucky Bay, WA)
You can see more of Sean's epic work here: Instagram | Facebook | Website