Customer Adventure Series: 4WD Camping Fraser Island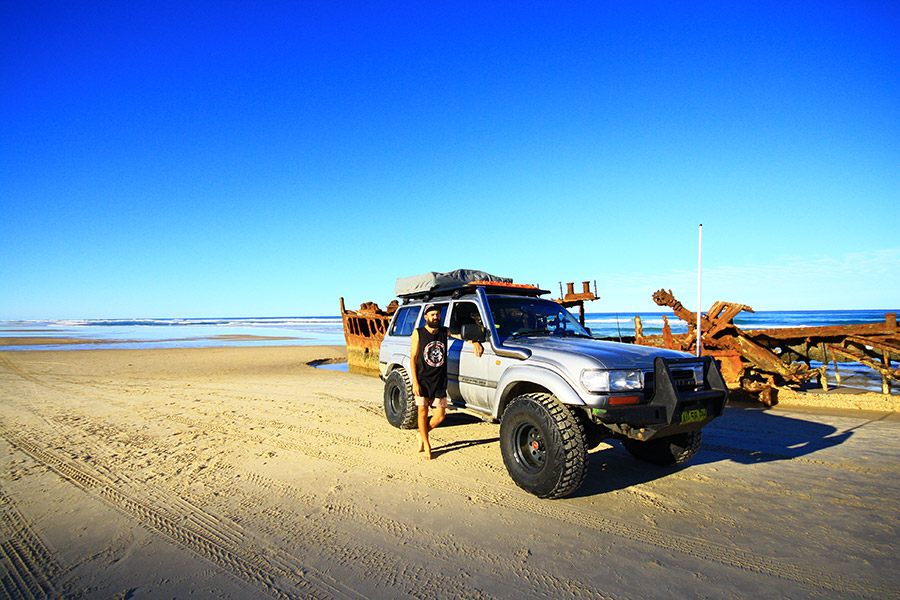 Escape the daily grind with Max Schoeddert on an epic adventure from Sydney to Qld's Fraser Island! Max and his partner Luella got in their '93 Toyota Landcruiser 80 Series and chased the warmer weather north to the sunshine state. Hitting the off-road tracks of the world's largest sand island (during whale migration season) is one of the most stunning coastal adventures you can have in Australia and this couple experienced it all!
(All Images supplied by Max Schoeddert)
Where: Fraser Island 
When: June, 2016 
Vehicle: 1993 Toyota Landcruiser 80 Series

Rhino-Rack Products: 
Rhino-Rack Pioneer Platform
and
RL Mounting System x3 (pair)
Rhino-Rack: What is it about 4WD adventures that keep you exploring?

Max Schoeddert: Just getting away from the grind of everyday life. We live in such a beautiful and lucky country, what better way to explore it than in a 4wd, and in low range.

Rhino-Rack: Where was your adventure set?

Max Schoeddert: Australia's iconic Fraser Island was our setting. We left Sydney on the 19th of June 2016 and spent a total of 8 nights on the island.

Rhino-Rack: How did you prepare for the trip? What are the important steps to take?

Max Schoeddert: I knew I had a few things to attend to before heading off. I replaced my tyres as they were getting a bit worse for wear. I also had a stainless steel snorkel fitted by Mud Diggers 4x4 in Mona Vale, as I heard there could be some deep water crossing to have a crack at. The most important thing for me is really just keeping on top of servicing and knowing my truck inside and out.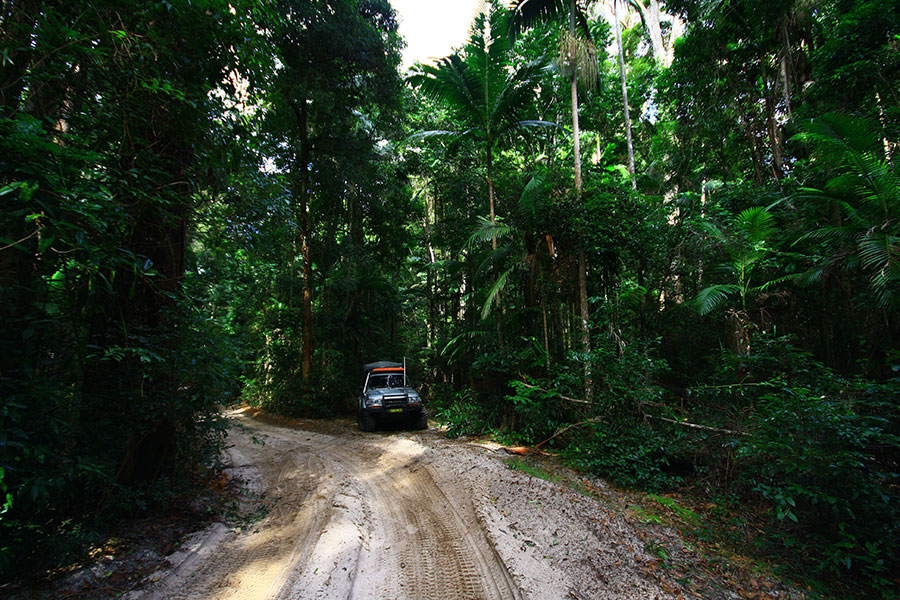 Rhino-Rack: What are the weather and terrain conditions like?

Max Schoeddert: Fraser Island in winter is mostly sunny and warm. We experienced rain and wind one night but apart from that, it was perfect weather. Fraser Island is primarily beach driving and inland fire trails territory. It is the biggest sand island in the world, so obviously terrain was mainly soft sand as well as a few major and minor creek crossings. Water flows from the island to the ocean so you are constantly coming across small fresh water outlets. The tides are really the only factor that you need to stay on top of.

Rhino-Rack: What was it you intended to do/see/ experience there?

Max Schoeddert: Fraser Island has been on my bucket list for a long time and I really wanted to tick it off. To see the Sandy Cape, the endless sand dunes as well as experience the diversity of wildlife. Also, I had heard of a creek crossing Awinya Creek which I really wanted to tackle. I actually got my snorkel fitted especially for that crossing. I had heard from friends that the secluded campsite was well worth it once you made it across. Lake Mckenzie would definitely have to be a highlight of Fraser it's a freshwater lake with no creeks flowing to it to fill it, it's formed from only rainfall and its crystal clear and amazing to swim in.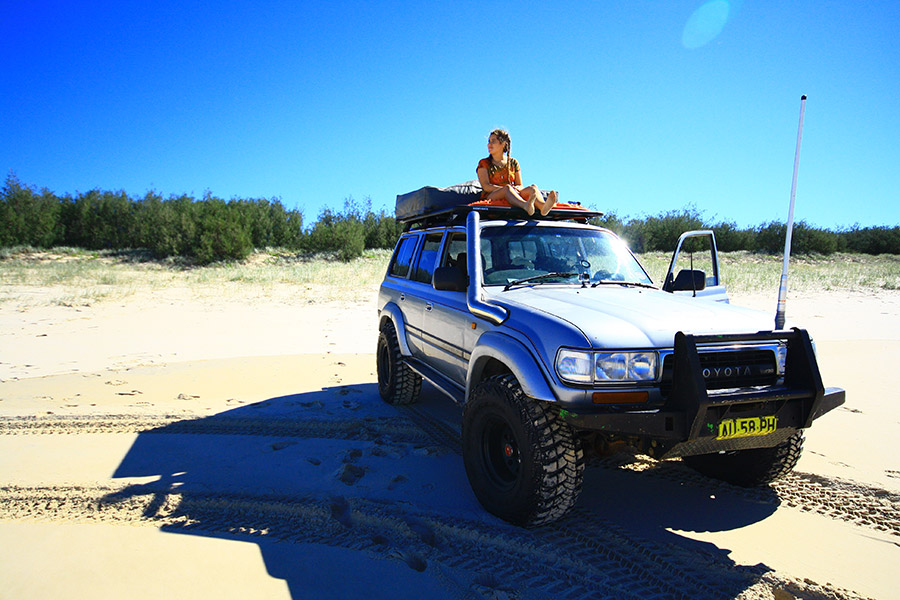 Rhino-Rack: Did you accomplish that?

Max Schoeddert: I can honestly say I accomplished all I set out to! Awinya Creek was a little bit of a challenge. Deep water crossings can be a bit nerve racking especially being so far from home. The Sandy Cape was an amazing spot to camp remotely and combining that with amazing sunsets every night was definitely a perfect way to end a day with a cold drink.

Rhino-Rack: Tell me about any other explorers you met along the way? 

Max Schoeddert: We met returning holiday makers; some who have been coming to the island every year for 20+ years with family and friends. Also, there were tourists from all over the world enjoying the island by themselves or in groups.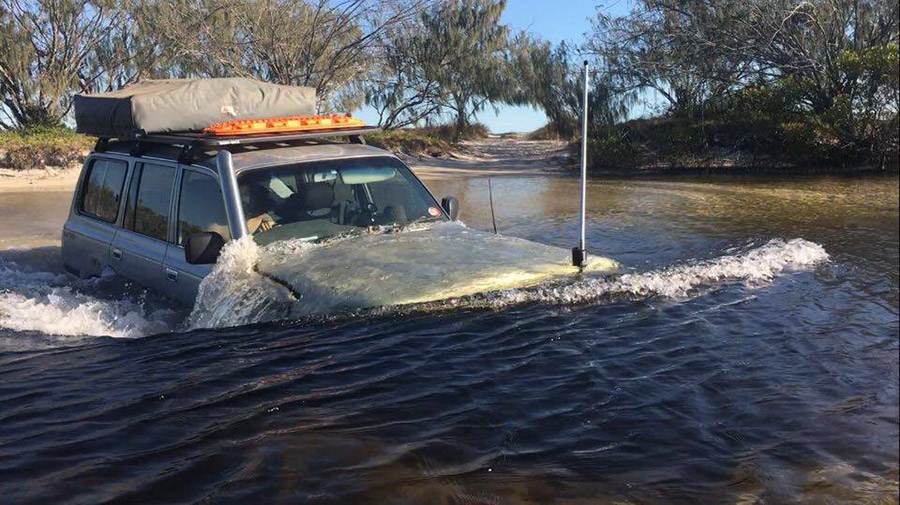 Rhino-Rack: What about the wildlife you saw?

Max Schoeddert: The wildlife was one of the main reasons I wanted to see Fraser. At this time of year, it is whale migration season! Looking toward the ocean at any time of time of day, you would without a doubt see whales breaching. We also spotted some of the biggest sea eagles I've ever seen. Of course, the Fraser Island dingos were there and it was amazing to see the wildlife mostly untouched by human contact!

Rhino-Rack: Were there any lessons learnt?

Max Schoeddert: Choosing the right tyre pressure for soft sand is very important, the lower the presser the bigger the footprint. The bigger the footprint the tyre leaves the less chance you have of getting bogged. Make sure you take enough fuel onto the island. (The fuel on Fraser is almost double the amount of regular fuel) We travelled almost 800kms whilst on the island so jerry cans are necessary.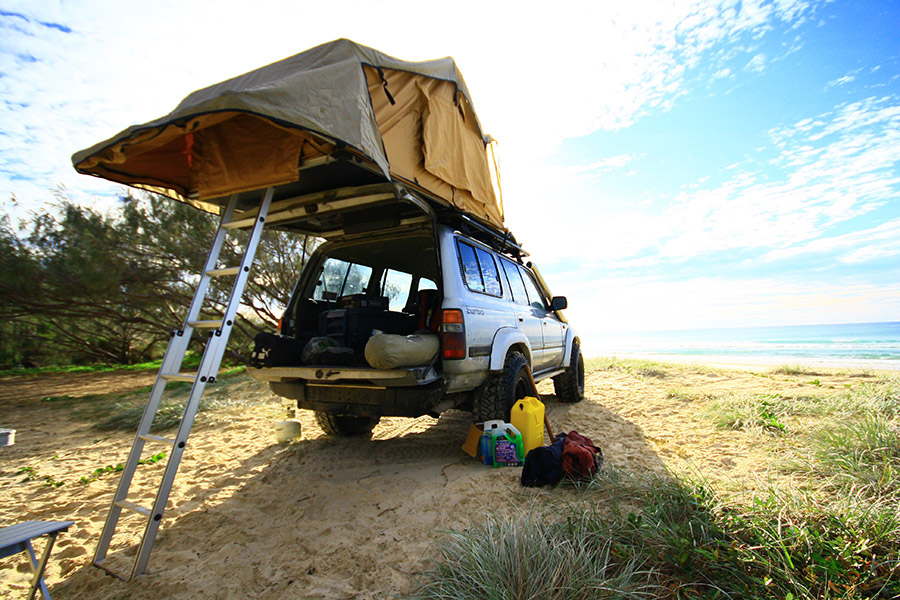 Rhino-Rack: How did Rhino-Rack products help to facilitate your adventure?

Max Schoeddert: I had the Rhino-Rack Pioneer Platform fitted before I left on the trip. This proved super valuable as it was the loading area for all the important gear we didn't want to cram the Landcruiser with. I was able to mount my roof top tent with no difficulty to the Pioneer Platform and also easily access my Maxtrax and jerry cans.

Rhino-Rack: What's the logistics of the adventure that other thrill seekers can follow?

Max Schoeddert: A week and a half would definitely give you enough time to see and enjoy everything you want on Fraser without being rushed. Taking a reliable 4wd is a must and at least basic sand driving knowledge will prove helpful. If you're doing the trip by yourself, self-recovery gear such as Maxtrax would be a good idea to have. All in all, it was an incredible 8 days that I'd repeat every year until I was like the travellers we met who'd been going to Fraser Island for 20 years!
Customer Adventure Series
We'll be posting stories taken directly from Rhino-Rack Customers. Adventurers who want to share their explorations around Australia and the world. If you'd like to get involved in the Customer Adventure Series please contact Rhino-Rack through any of our social media platforms below.
Facebook:
facebook.com/rhinorack
||
Instagram:
@rhino_rack