Customer Adventure Series: Holly Goes Around Australia Solo
Holly Mohr is a solo traveller. Working Fly In Fly Out as a maintenance electrician in the Pilbara, W.A, allows her time off the job to explore Australia and she is ticking off all the best spots! With her beloved Toyota Landcruiser, Holly has set up camp inside the car, on the beaches, in the red earth outback, atop mountains and always under the stars.
All images provided by Holly Mohr's Instagram, follow her adventures here @misshollywoodmeow
Where: Around Australia
When: 3 months in 2015
Vehicle: Toyota Landcruiser Troopy
Rhino-Rack Products:
Rhino-Rack: What is it about 4WD adventures that keeps you exploring?
Holly: I've never been one for the city, I love open spaces and I love the feeling of freedom that comes from being completely alone on a stretch of beach, or in the middle of the bush.
Rhino-Rack: Where was your adventure set?
Holly: I drove a 'big-lap' of Aus over 3 month period during 2015, however its since morphed into another ongoing  lap of the country this year, so technically I'm still travelling.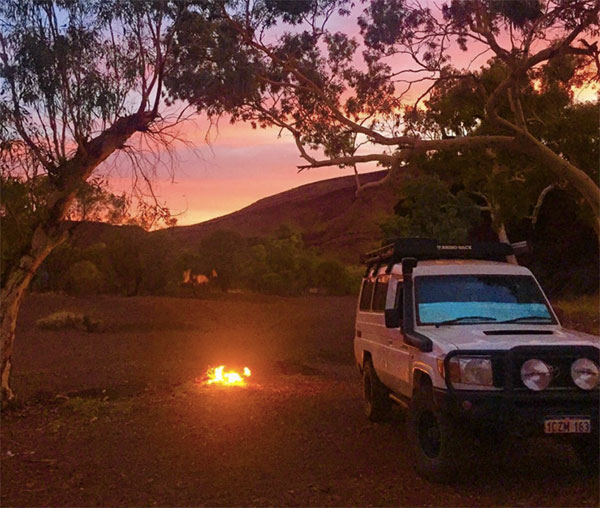 Rhino-Rack: When did you decide to start this epic trip?
Holly: In all honesty, there wasn't a great deal of planning involved. I had a 3-day period between picking up my new 4wd (troopy), having it kitted out with the essentials and hitting the road. I enjoy not having every minor detail planned before I head off on a trip, it leaves room for more options or detours.
Rhino-Rack: What was it you intended to do/see/ experience?
Holly: I've spent the last few years travelling overseas constantly, so I decided it was about time I started seeing more of my own country. I suppose I just really wanted to 'get away from it all' and see some remote parts of Australia. Being able to camp under the stars without any light pollution or noise from fellow campers is something I love, so I wanted to do as much of that as possible!
Rhino-Rack: Did you accomplish that?
Holly: Definitely! My time spent through remote parts of South Australia was incredible and I'm certain those memories will be with me for life. Camping through the Flinders Ranges and along the Birdsville Track was the most memorable of all - there just seems to be so much sky up that way, which lent to some amazing sunsets and pretty impressive stargazing at night.
Rhino-Rack: How did Rhino-Rack products help to facilitate your adventure?
Holly: My Rhino-Rack Pioneer Tray proved to be invaluable out bush. I didn't have a dual wheel carrier on my 4wd and carrying a second spare tyre was a must while I was travelling remotely so the extra room was essential. I'm amazed at how much gear I managed to accumulate over the first few months, so the Pioneer Tray started to fill up pretty quickly! I also had a Rhino-Rack Sunseeker Awning installed about a month into my travels, which has been most useful while travelling along the W.A coastline, as trees and shade are a pretty rare occurrence.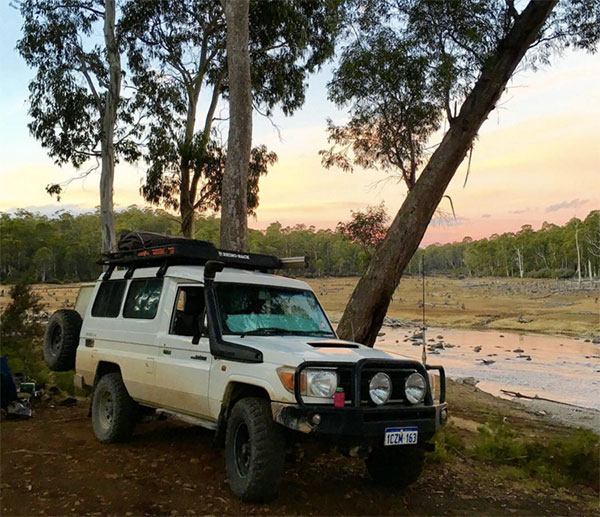 Rhino-Rack: Did you face any obstacles along the way and how did you get around them?
Holly: I had a couple of boiling hot nights camped out in the back of the troopy near Kalgoorlie at the beginning of the trip (before I'd installed fly screen) so I suffered a little then. I got myself bogged on a high tide on a beach in South Australia (very silly mistake .. one that I won't be making again anytime soon). Other than that I didn't have too much trouble at all.
"What I love most about Australia (and Australians) is knowing that most passing strangers are happy to lend a hand to someone in need."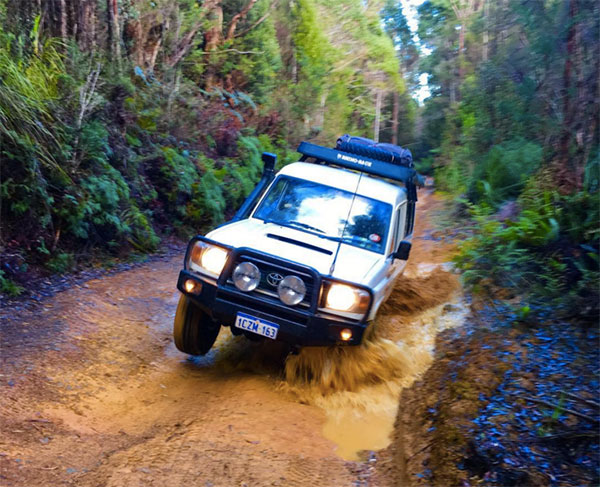 Rhino-Rack: What is it about your adventure that makes the trip worthwhile?
Holly: The sense of freedom that comes from travelling without a schedule or itinerary to follow. Waking up in the morning and not knowing what you will see that day, or where you'll be staying that night is exciting!
Rhino-Rack: What's the logistics of the adventure that other thrill seekers can follow?
Nothing ventured, nothing gained! Taking chances and turning down unmarked roads has lead to some of my most memorable discoveries. So long as you've prepared yourself with the right vehicle and all the essentials items in case something goes wrong then you've got nothing to lose.
Customer Adventure Series
We'll be posting stories taken directly from Rhino-Rack Customers. Adventurers who want to share their explorations around Australia and the world. If you'd like to get involved in the Customer Adventure Series please contact Rhino-Rack's online department via web@rhinorack.com.au or through any of our social media platforms listed below.
Facebook: facebook.com/rhinorack || Instagram: @rhino_rack