Customer Adventure Series: Cairns to Cape York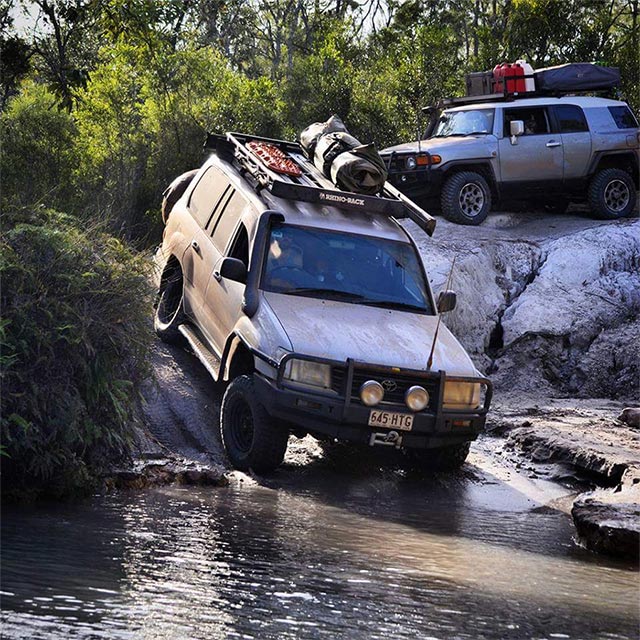 If you live in the top end of Australia then you naturally lean toward the rugged, outdoor life. Paddy Sheehan is a hard working concrete batcher who hits the dirt tracks around Cairns in his 105 Series Toyota Landcruiser or on the Mountain Bike tracks.
In 2015, Paddy and a small crew of friends hit the road from Cairns to Cape York with the intention of finishing the Telegraph Track including Gunshot, and Nolan's Brook Crossing. Paddy towed his boat up to explore the stunning Pennyfather River, north of Weipa, and launch the boat for a fish.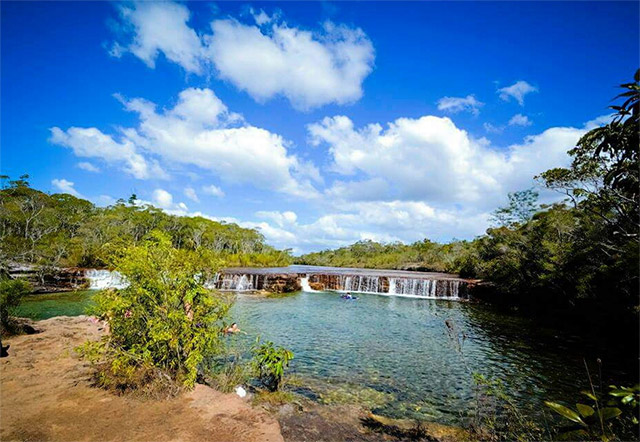 Images taken by Meritta you can follow more of Paddy's adventures on Instagram
@paddysheehan85
Where:
Cairns to Cape York
When:
July 2015
Vehicle:
Toyota Landcruiser 105 Series
Rhino-Rack ProductsRhino-Rack:
What is it about 4WD adventures that keep you exploring?
Paddy Sheehan:
It's good to get away from the hustle of life. Having some time to relax is important. Also nothing beats finding that banger of a campsite, track or swim/fishing spot. The country is beautiful up there, and has some of the best waterfalls and swimming holes in the country. I think everyone that owns a 4x4 would think Cape York was one of the ultimate 4WD destinations.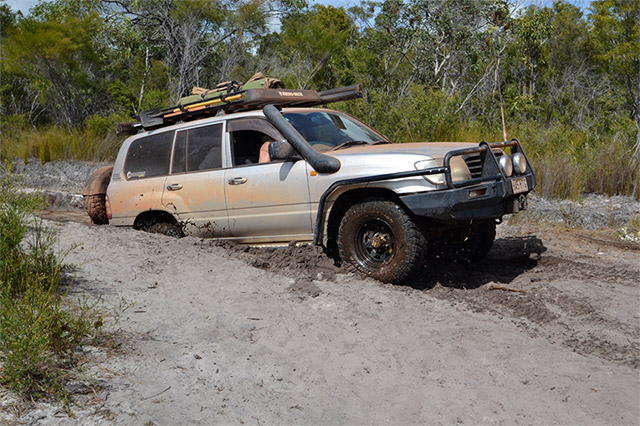 Rhino-Rack:
Why choose the trip from Cairns to Cape York?
Paddy Sheehan:
Having done portions of the Telegraph track with the family when we were much younger, we made it our mission to complete the entire Telegraph track, including Gunshot, and Nolan's Brook Crossing. We gave ourselves 3 weeks to explore Cape York leaving from our homes in Cairns.
Rhino-Rack:
Who were you travelling with?
Paddy Sheehan:
The trip was organised between myself and two other mates Jesse and Shaun, and their partners Meritta and Bianca. Jesse and Meritta brought their young kids, Darcy and Quinn. They were driving in a Dual Cab 105 series Landcruiser and a Toyota FJ Cruiser.
Rhino-Rack:
What's it like travelling with kids in such remote and croc-infested areas?
Paddy Sheehan:
The kids had an absolute ball on the trip and provided us with plenty of amusement. Little Darcy caught most of the fish! Just make sure they've got a few activities to do and plenty of snacks. Darcy and Quinn will make fun out of anything. Also, travelling during the school holidays, they made plenty of friends along the way. My biggest recommendation would be to teach them to be croc wise, and just keep an eye on them when near the water's edge, but don't let it deter you.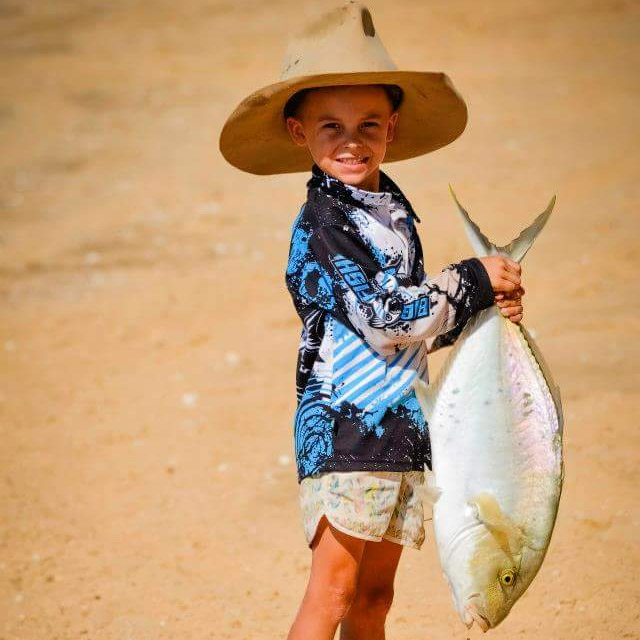 Rhino-Rack:
Did you face any obstacles along the way and how did you get around them?
Paddy Sheehan:
The trip wasn't without damage. I managed to snap two blades off my cooling fan, which I fixed by cutting an opposing blade to balance it out (enough to get me home). Jesse's radiator decided to give up the ghost and drop all it's coolant, which he temporarily fixed using rapid fix glue, then had one ordered in Bamaga, which meant we had to hang around there a little longer (there are worse places to be stuck. I think we all used our winches at least once too.
Rhino-Rack:
Did you meet any local characters or adventurers along the way?
Paddy Sheehan:
We travelled behind a group who named themselves "The Cape Crusaders". A highlight was seeing one of them attempt to Drive the footpath exit out of Palm Creek. They managed to wedge their Landcruiser between two trees in a pretty scary position. Fortunately a chainsaw and winch got them out of trouble.
There were 4x4s ranging from $5000 to $100,000 travelling the track. I reckon everyone had the exact same amount of fun.
Rhino-Rack:
How was the wildlife and scenery up there? The area is known as dangerous but does the beauty of it far outweigh that?
Paddy Sheehan:
Growing up in Cairns, North Queensland, you learn to be Croc and Snake smart. We saw plenty of both, and to be honest, they are part of the attraction. One thing I can say is, I have never seen as much fish life as we saw on the Pennyfather River. There were schools of Queenfish and Trevally smashing schools of bait from sunrise to sunset. It was cool to see the Eagles and Kites getting involved too, swooping down and picking off baitfish.
The local kids in Seisia were tearing down the beach flat out on bareback horses! They'd then tie them up to the Seisia Jetty and go and do flips off the jetty into the shark and croc ridden water. Those kids must know something I don't (laughing).
Rhino-Rack:
How did Rhino-Rack adventure gear help to facilitate your trip?
Paddy Sheehan:
I used a couple of Rhino-Rack products. I have fitted a Pioneer full length Tray on my roof, which I store my massive double swag and Maxtrax on. I love all the attachments available for these platforms. I secure my shovel to that using the shovel brackets. I also have a side and rear awning brackets fitted to the platform. I use the Rhino-Rack Camp light setup. I will be looking at a Foxwing Awning as an upgrade in the near future.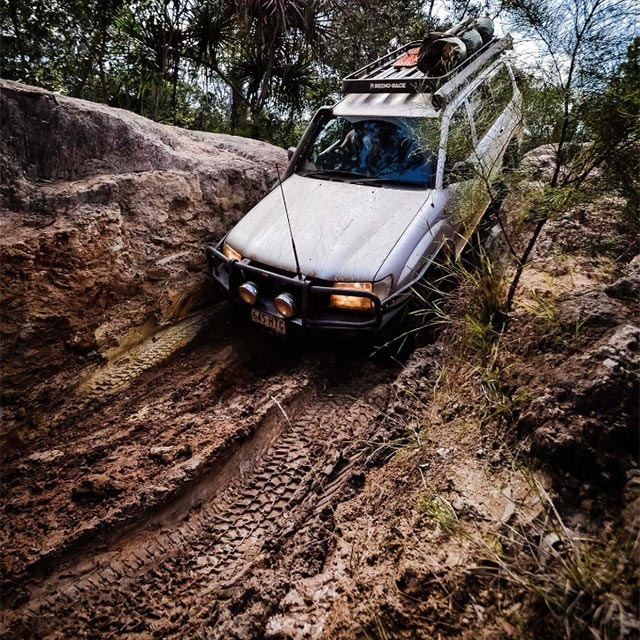 Rhino-Rack:
What's the logistics of the adventure that other thrill seekers can follow?
Paddy Sheehan:
I'd recommend at least two and a half weeks to explore up there. As long as you have a reliable 4x4 with decent tyres and suspension, you shouldn't have too many dramas. There is plenty of food and water available in Seisia and Bamaga, if you are running short. Also, take spares like belts, tyres and maybe even a wheel bearing kit. Just make it happen!
Customer Adventure Series
We'll be posting stories taken directly from Rhino-Rack Customers. Adventurers who want to share their explorations around Australia and the world. If you'd like to get involved in the Customer Adventure Series please contact Rhino-Rack's online department via web@rhinorack.com.au or through any of our social media platforms listed below.
Facebook:
facebook.com/rhinorack
|| Instagram:
@rhino_rack