Customer Adventure Series: Ty and His Ford Ranger
Ty Fenwick could be called a rev head, a dirt engineer, an outdoorsman, a family man or an explorer but he prefers to be known by all of these titles. Ty has a special relationship with his Ford Ranger and recently purchased a Pioneer Tradie Tray which makes him the perfect candidate for the Rhino-Rack Customer Adventure Series.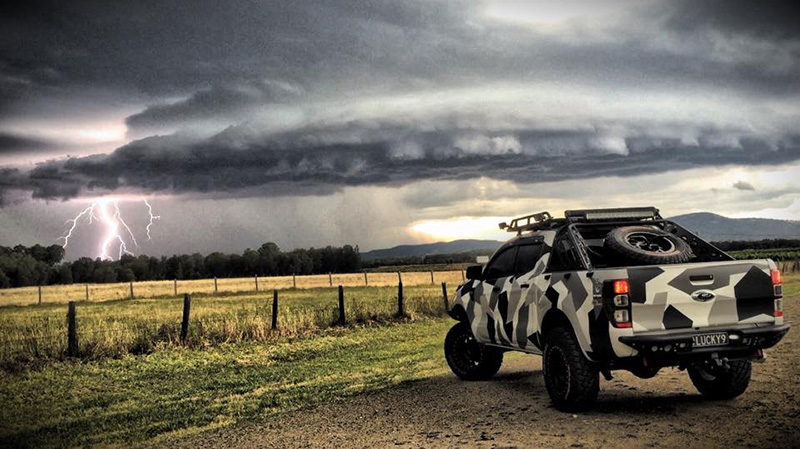 (Check out his Instagram @lucky9design)

Where: Cape York
When: 2016

Rhino-Rack Products:
Pioneer Tradie Tray
Jerry Can Holders
Pioneer Shovel Holder Bracket
Rhino-Rack:
Is preparation the key to a great adventure?
Ty Fenwick:
My plan of attack is to have both my vehicle and camper set up so any obstacles are easily overcome and passed with ease. Cape York is known for having extremely dangerous conditions after the wet season (ie; Gunshot Creek & Nolans Brook).  We will also have at least two other vehicles with us fully equipped to help each other in recover efforts. Making sure we'll have the right amount of backups and spares for the vehicles and to make sure we're prepared for the worst case scenarios, should they arise.
Rhino-Rack:
What is it about your adventure that makes the trip worth while?
Ty Fenwick:
Nothing compares to getting out in the bush and gaining life experiences with mates. My main objective for Cape York is to successfully stand at the most northern point of Australia.
Rhino-Rack:
How will Rhino-Rack products help to facilitate your adventure?
Ty Fenwick:
The Rhino-Rack Pioneer Tradie Tray and various Rhino-Rack roof top accessories will help to keep all my equipment secure and provide me with a lot more storage space for all my spares, fuel and camping equipment. The versatility of Rhino-Rack against their competitors makes things a lot quicker, simpler and has a lot more versatility of the equipment I can carry.
Ty's time is split between family life, running the Island Action Sports Complex a professional motocross facility North of Newcastle, building International Motocross and Freestyle Motocross courses and planning the ultimate trip to Cape York. All these activities involve his pictured
Ford Ranger
.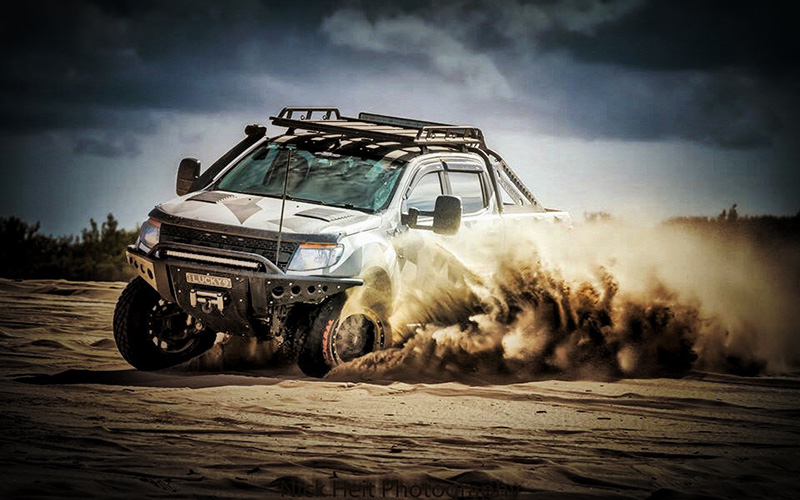 Rhino-Rack:
Your vehicle, the Ford Ranger, does not look stock. What have you modified to make it look so… bad ass?
Ty Fenwick:
Here comes a list:
4" lift
Fox coil overs & OME leafs with fox rear shocks. Method 18" x5 wheels on new 35" atturo tyres
3" straight through exhaust
DP Diesel chip and peddle torque throttle controller
ADD front bar, rear bar, and chase rack
13000 pound MAX military winch with remotes
Rock lights
Uniden uhf radio
Arb Air lockers with on board compressor and air tank
Full 3M urban camo wrap
Raptor bonnet vents
Bonnet protector
High lift jack and mount
Rhino-Rack Pioneer Tradie Tray
HID head lights
Snorkel
Rhino-Rack:
Can you describe how the look changed when you put the Rhino-Rack systems on there?
Ty Fenwick: Combined with being more practical, putting the Rhino-Rack on gave the truck an urban assault style and stance.
Rhino-Rack: Thanks for the low down on your Ford Ranger and we look forward to seeing and hearing about your Cape York Adventure.
Customer Adventure Series
We'll be posting stories taken directly from Rhino-Rack Customers. Adventurers who want to share their explorations around Australia and the world. If you'd like to get involved in the Customer Adventure Series please contact Rhino-Rack's online department via web@rhinorack.com.au or through any of our social media platforms listed below.
Facebook: facebook.com/rhinorack || Instagram: @rhino_rack || Twitter: @rhinorack