Rhino-Rack Proud To Sponsor 4th Hobie Fishing World Championship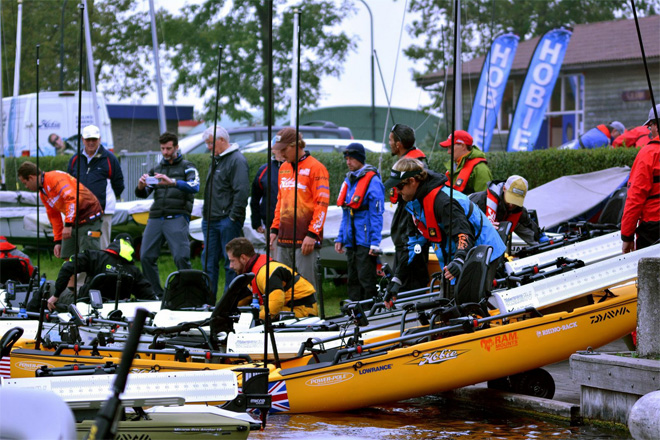 Across the other side of the globe from Australia and just 20km outside the beautiful canal lined city of Amsterdam, the 4th Hobie® Fishing World Championship presented by Rhino-Rack got off to an excellent start yesterday, as anglers took to the waters of Vinkeveense Plassen in windy and choppy conditions.
The tournament venue of Vinkeveen is located in a region surrounding a huge man made lake, which was carved out of a low-lying peat wetland area, over a period of hundreds of years. This continual, long-term peat cutting has created bodies of water that separate narrow strips of land housing shacks, gardens and natural vegetation. The deep, cut out, canals offer protection from wind and related heavy chop when conditions turn foul. The small islands, where the cut out peat was originally piled to dry, provide structural habitat and overhangs from which the predatory Pike, Zander and Perch ambush their prey.
Vinkeveen was a buzz yesterday morning as anglers from 20 countries spanning 4 continents prepared for their first session on the tournament arena. The Lowrance Navigation Day provided the opportunity for competitors to reconnoitre the venue before the commencement of the three-day competition.
Hobie Kayak Europe supplied and kitted out 50, of the new 2015 model Hobie Pro Angler 12 kayaks for the event. Seen for the first time on European waters yesterday, you could literally feel the excitement as the world championship anglers prepared the kayaks for the first time. Branded with Rhino-Rack decals and those of other sponsors, the kayaks were quite a sight to see.
The Championship event runs until the 10th of October so being in the early stages it is safe to say the excitement is building!